Exterior
The latest new on outdoor wallcovering! Stunning patented exterior wallpaper by Wall and Deco
This design wallpaper with wonderful prints is made on demand on every size you require at a price of € 160,00/m2. Roll width is 94 cm.
Delivery time around 4 weeks.
Please send us an email for a free quotation and visual (example by mail)
Warranty of 10 years on quality and color.
The entire collection can be seen at www.wallanddeco.com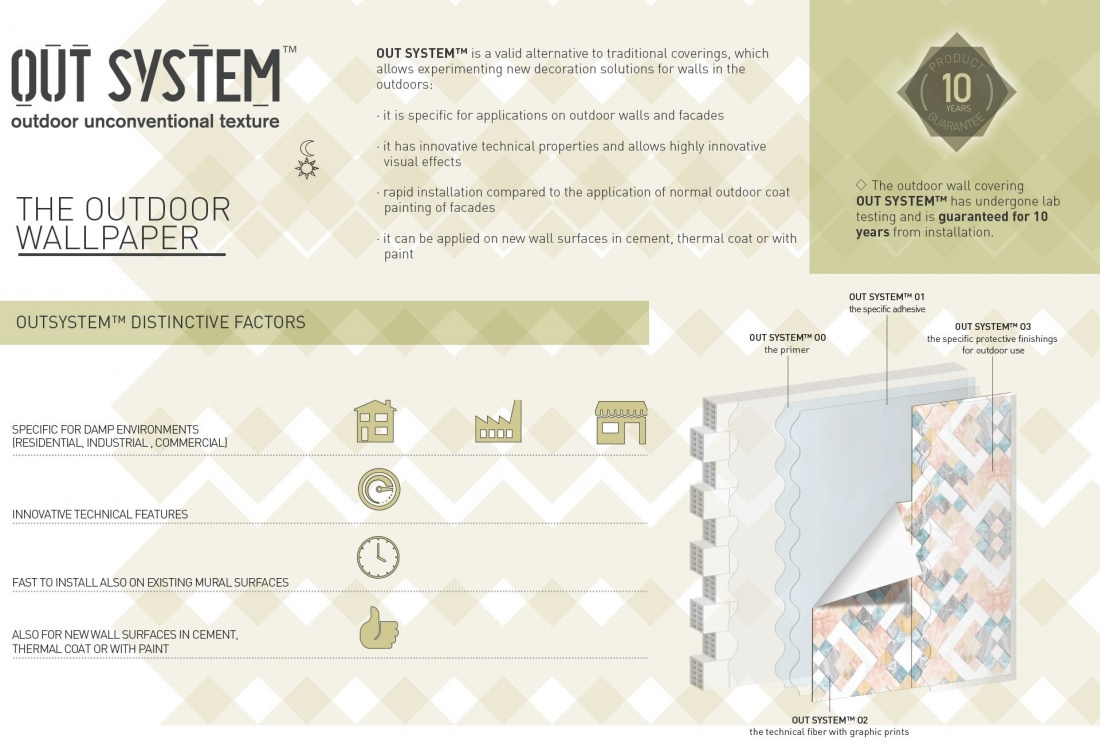 Wall & Deco BAU-MAN

High end outdoor wallcovering BAU-MAN designed by Debonademeo for Wall & Deco's out system! Available in two colors. Collection 2021.

Price is Euro 175,- m2. Special glue and finishing included. Width of roll is 94 cm. Possible…

Wall & Deco BRIDGING

High end outdoor wallcovering BRIDGING designed by Bertero Marzoli for Wall & Deco's out system! Available in two colors. Collection 2020.

Price is Euro 175,- m2. Special glue and finishing included. Width of roll is 94 cm.…

Wall & Deco WOODPECKER

High end outdoor wallcovering WOODPECKER designed by Debonademeo for Wall & Deco's out system! Available in two colors. Collection 2019.

Price is Euro 175,- m2. Special glue and finishing included. Width of roll is 94 cm.…

Wall & Deco TRIBU

High end outdoor wallcovering TRIBU designed by Gio Pagani for Wall & Deco's out system! Available in 3 colors. Collection 2013.

Price is Euro 175,00/ m2. Special glue and finishing included. Width of roll is 94 cm. Possible in…

Wall & Deco AGRAFAGE

High end outdoor wallcovering AGRAFAGE designed by Christian Benini for Wall & Deco's out system! Available in two colors. Collection 2019.

Price is Euro 175 per m2. Special glue and finishing included. Width of roll is 94 cm.…

Wall & Deco LOOPHOLE

High end outdoor wallcovering LOOPHOLE designed by Bertero Projects for Wall & Deco's out system! Available in two colors.

Price is Euro 175,- per m2. Special glue and finishing included. Width of roll is 94 cm. Possible in any…

Wall & Deco WOLF

High end outdoor wallcovering WOLF designed by Debonademeo for Wall & Deco's out system! Available in two colors.

Price is Euro 175,- per m2. Special glue and finishing included. Width of roll is 94 cm. Possible in any size you…

Wall & Deco OZ

High end outdoor wallcovering OZ designed by Debonademeo for Wall & Deco's out system! Available in two colors.

Price is Euro 175,- per m2. Special glue and finishing included. Width of roll is 94 cm. Possible in any size you…

Wall & Deco GRID

High end outdoor wallcovering GRID designed by Bertero Projects for Wall & Deco's out system! Available in two colors.

Price is Euro 175,- per m2. Special glue and finishing included. Width of roll is 94 cm. Possible in any size…

Wall & Deco NEW-YORKER

High end outdoor wallcovering NEW-YORKER designed by Bertero Projects for Wall & Deco's out system! Available in two colors.

Price is Euro 175,- per m2. Special glue and finishing included. Width of roll is 94 cm. Possible in any…

Wall & Deco SWEBUS

High end outdoor wallcovering SWEBUS designed by Bertero Projects for Wall & Deco's out system! Available in two colors.

Price is Euro 175,- per m2. Special glue and finishing included. Width of roll is 94 cm. Possible in…

Wall & Deco JUSTEAT

High end outdoor wallcovering JUSTEAT by designer Wladimiro Bendandi for Wall & Deco's out system! Available in two designs.

Price is Euro 175,- per m2. Special glue and finishing included. Width of roll is 94 cm. Possible in any…

Wall & Deco SCRUBBER

High end outdoor wallcovering SCRUBBER by designer Cristian Benini for Wall & Deco's out system!

Price is Euro 175,- per m2. Special glue and finishing included. Width of roll is 94 cm. Possible in whatever size you…

Wall & Deco IBALA

High end outdoor wallcovering IBALA by designer DEBONADEMEO for Wall & Deco's out system!

Price is Euro 175,- per m2. Special glue and finishing included. Width of roll is 94 cm. Possible in whatever size you need.

Delivery time…

Wall & Deco GRAND RIBAUD

High end outdoor wallcovering GRAND RIBAUD by designer Christian Benini for Wall & Deco's out system!

Price is Euro 175,- per m2. Special glue and finishing included. Width of roll is 94 cm. Possible in whatever size you…

Wall & Deco CALYPSO

High end outdoor wallcovering CALYPSO by designer Debonademeo for Wall & Deco's out system!

Price is Euro 175,- per m2. Special glue and finishing included. Width of roll is 94 cm. Possible in whatever size you need.

Delivery…

Wall & Deco FRUSH

High end outdoor wallcovering FRUSH by designer Bertero Panto Marzoli for Wall & Deco's out system!

Price is Euro 175,- per m2. Special glue and finishing included. Width of roll is 94 cm. Possible in whatever size you…

Wall & Deco NERO DI CHINA

High end outdoor wallcovering NERO DI CHINA by designer Gio Pagani for Wall & Deco's out system!

Price is Euro 175,- per m2. Special glue and finishing included. Width of roll is 94 cm. Possible in whatever size you…

Wall & Deco GIUNCO

High end exterior wallcovering GIUNCO by designer Bertero Panto Marzoli for Wall & Deco's out system!

Price is Euro 175,- per m2. Special glue and finishing included. Width of roll is 94 cm. Possible in whatever size you…

Wall & Deco OBLIQUA

Upgrade your outdoor wall with this revolutionary outdoor herringbone wallpaper OBLIQUA by designer Bertero Panto Marzoli for Wall & Deco!

Price is Euro 175,- per m2. Special glue and finishing included. Width of roll is 94 cm.…

Wall & Deco JULIAN

Upgrade your outdoor wall with this revolutionary outdoor wallpaper by designer Raw for Wall & Deco!

Price is Euro 175,- per m2. Special glue and finishing included. Width of roll is 94 cm. Possible in whatever size you…

Wall & Deco TEKA-TEKI

Upgrade your outdoor wall with this revolutionary outdoor wallpaper by designers De Meo & De Bona for Wall & Deco!

Price is Euro 175,- per m2. Special glue and finishing included. Width of roll is 94 cm. Possible in whatever size…

Wall & Deco SANTA CLARA

Upgrade your outdoor wall with this revolutionary outdoor wallpaper by designer Gio Pagani for Wall & Deco!

Price is Euro 175,- per m2. Special glue and finishing included. Width of roll is 94 cm. Possible in whatever size you…

Wall & Deco TOCO

Upgrade your outdoor wall with this revolutionary outdoor wallpaper by designer Gio Pagani for Wall & Deco!

Price is Euro 175,- per m2. Special glue and finishing included. Width of roll is 94 cm. Possible in whatever size you…

Wall & Deco FLO'

Upgrade your outdoor wall with this revolutionary outdoor wallpaper by designers De Meo & De Bona for Wall & Deco!

Price is Euro 175,- per m2. Special glue and finishing included. Width of roll is 94 cm. Possible in whatever size…

Wall & Deco POP POP

Upgrade your outdoor wall with this revolutionary outdoor wallpaper by Christian Benini for Wall & Deco!

Price is Euro 175,- per m2. Special glue and finishing included. Width of roll is 94 cm. Possible in whatever size you…

Wall & Deco BONSAI

Upgrade your outdoor wall with this revolutionary outdoor wallpaper BONSAI by Bertero Panto Marzoli voor Wall & Deco!

Price is Euro 175,- per m2. Special glue and finishing included. Width of roll is 94 cm. Possible in whatever…

Wall & Deco DOT DOT

Upgrade your outdoor wall with this revolutionary outdoor wallpaper by designers De Meo & De Bona for Wall & Deco!

Price is Euro 175,- per m2. Special glue and finishing included. Width of roll is 94 cm. Possible in whatever size…

Wall & Deco DIE CUT

Upgrade your outdoor wall with this revolutionary outdoor wallpaper by Wall & Deco!

Price is Euro 175,- per m2. Special glue and finishing included. Width of roll is 94 cm. Possible in whatever size you need.

Delivery time…

Wall & Deco QUBIK

Upgrade your outdoor wall with this revolutionary outdoor wallpaper QUBIK by Wall & Deco!

Price is Euro 175,- per m2. Special glue and finishing included. Width of roll is 94 cm. Possible in whatever size you need.

Delivery time…

Wall & Deco DRAGON POWER

Upgrade your outdoor wall with this revolutionary outdoor wallpaper DRAGON POWER by Wall & Deco!

Price is Euro 175,- per m2. Special glue and finishing included. Width of roll is 94 cm. Possible in whatever size you…

Wall & Deco BAMBU

Upgrade your outdoor wall with this revolutionary outdoor wallpaper BAMBU by Wall & Deco!

Price is Euro 175,- per m2. Special glue and finishing included. Width of roll is 94 cm. Possible in whatever size you need.

Delivery time…

Wall & Deco WW-1

Upgrade your outdoor wall with this revolutionary waterproof outdoor wallpaper WW-1 by Wall & Deco!

Price is Euro 175,- per m2. Special glue and finishing included. Width of roll is 94 cm. Possible in whatever size you…

Wall & Deco PLATFORM

Upgrade your outdoor wall with this revolutionary outdoor wallpaper PLATFORM by Wall & Deco! Available in 3 colours.

Price is Euro 175,- per m2. Special glue and finishing included. Width of roll is 94 cm. Possible in whatever…

Wall & Deco TECTONIC

Upgrade your outdoor wall with this revolutionary outdoor wallpaper TECTONIC by Wall & Deco!

Price is Euro 175,- per m2. Special glue and finishing included. Width of roll is 94 cm. Possible in whatever size you need.

Delivery…

Wall & Deco OPUS RETICPLATUM

Upgrade your outdoor wall with this revolutionary outdoor wallpaper Opus Reticplatum by Wall & Deco!

Price is Euro 175,- per m2. Special glue and finishing included. Width of roll is 94 cm. Possible in whatever size you…

Wall & Deco CAMOOO

Upgrade your outdoor wall with this revolutionary outdoor wallpaper CAMOOO by Wall & Deco!

Price is Euro 175,- per m2. Special glue and finishing included. Width of roll is 94 cm. Possible in whatever size you need.

Delivery…

Wall & Deco OP-TICAL

Upgrade your outdoor wall with this revolutionary outdoor wallpaper OP-TICAL by Wall & Deco!

Price is Euro 175,- per m2. Special glue and finishing included. Width of roll is 94 cm. Possible in whatever size you need.

Delivery…

Wall & Deco KEFIA

Upgrade your outdoor wall with this revolutionary outdoor wallpaper KEFIA by Wall & Deco!

Price is Euro 175,- per m2. Special glue and finishing included. Width of roll is 94 cm. Possible in whatever size you need.

Delivery time…

Wall & Deco TRIBAL POP

Upgrade your outdoor wall with this revolutionary outdoor wallpaper by Wall & Deco!

Price is Euro 175,- per m2. Special glue and finishing included. Width of roll is 94 cm. Possible in whatever size you need.

Delivery time…

Wall & Deco COAST TO COAST

Upgrade your outdoor wall with this revolutionary outdoor wallpaper COAST TO COAST by Wall & Deco!

Price is Euro 175,- per m2. Special glue and finishing included. Width of roll is 94 cm. Possible in whatever size you…

Wall & Deco POINT OF VIEW

Upgrade your outdoor wall with this revolutionary outdoor wallpaper by Wall & Deco!

Price is Euro 175,- per m2. Special glue and finishing included. Width of roll is 94 cm. Possible in whatever size you need.

Delivery time…