KitchenWalls
NEW AND REVOLUTIONARY - WALLPAPER YOUR KITCHEN!
WATERPROOF * HEAT RESISTANT * VERY EASY TO CLEAN * REUSABLE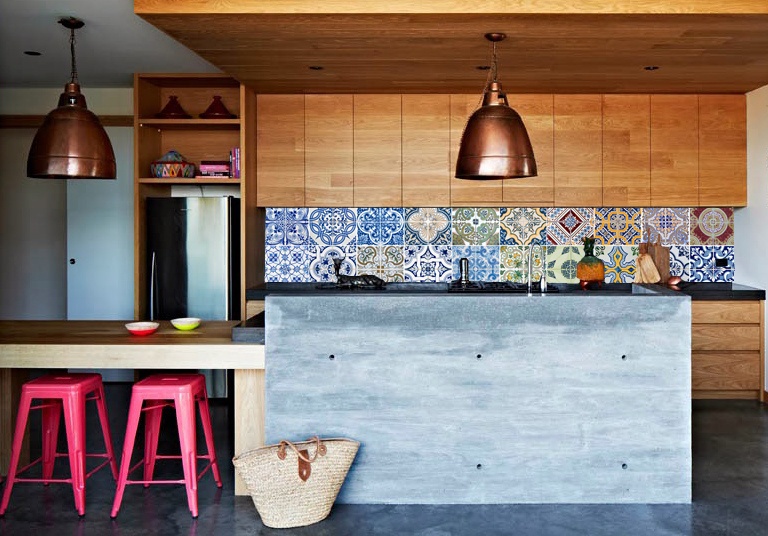 Developed, designed and produced by the Behangfabriek. Well, except for the Desiger Collection ofcourse; they get the credits for their wonderful work!
Not enough? Take a look at the specials as well!
Also interested in our pretty cool modular steel kitchen? Please take a look at The Big Easy!
SJ022 Watercolor Herringbone - Studio Jip

Brand New KitchenWalls Studio Jip 022 designed by Dutch Designer Jip! Such a simple way to change your kitchen!

Dim. width 300 x height 60 cm, so one horizontal stripe (incl. special glue)

Waterproof and stainproof, very easy to…

€ 155,00

SJ021 Watercolor Waves - Studio Jip

Brand New KitchenWalls Studio Jip 021 designed by Dutch Designer Jip! Such a simple way to change your kitchen!

Dim. width 300 x height 60 cm, so one horizontal stripe (incl. special glue)

Waterproof and stainproof, very easy to…

€ 155,00

PB036 - PuckB

Beautiful KitchenWalls PB036 designed by Dutch Designer PUCK! We love it!

Dim. width 300 x height 60 cm, so one horizontal stripe (incl. special glue)

Waterproof and stainproof, very easy to clean with a damp cloth.

Delivery…

€ 155,00

SJ020 Lily Lake - Studio Jip

Brand New KitchenWalls Studio Jip 020 designed by Dutch Designer Jip! Such a simple way to change your kitchen!

Dim. width 300 x height 60 cm, so one horizontal stripe (incl. special glue)

Waterproof and stainproof, very easy to…

€ 155,00

SJ019 Flower Sunset - Studio Jip

Brand New KitchenWalls Studio Jip 019 designed by Dutch Designer Jip! Such a simple way to change your kitchen!

Dim. width 300 x height 60 cm, so one horizontal stripe (incl. special glue)

Waterproof and stainproof, very easy to…

€ 155,00

PB035 - PuckB

Beautiful KitchenWalls PB035 designed by Dutch Designer PUCK! We love it!

Dim. width 300 x height 60 cm, so one horizontal stripe (incl. special glue)

Waterproof and stainproof, very easy to clean with a damp cloth.

Delivery…

€ 155,00

PB034 - PuckB

Beautiful KitchenWalls PB034 designed by Dutch Designer PUCK! We love it!

Dim. width 300 x height 60 cm, so one horizontal stripe (incl. special glue)

Waterproof and stainproof, very easy to clean with a damp cloth.

Delivery…

€ 155,00

PB033 - PuckB

Beautiful KitchenWalls PB033 designed by Dutch Designer PUCK! We love it!

Dim. width 300 x height 60 cm, so one horizontal stripe (incl. special glue)

Waterproof and stainproof, very easy to clean with a damp cloth.

Delivery…

€ 155,00

PB032 - PuckB

Beautiful KitchenWalls PB032 designed by Dutch Designer PUCK! We love it!

Dim. width 300 x height 60 cm, so one horizontal stripe (incl. special glue)

Waterproof and stainproof, very easy to clean with a damp cloth.

Delivery…

€ 155,00

SJ017 Abstract Rock - Studio Jip

Brand New KitchenWalls Studio Jip 017 designed by Dutch Designer Jip! Such a simple way to change your kitchen!

Dim. width 300 x height 60 cm, so one horizontal stripe (incl. special glue)

Waterproof and stainproof, very easy to…

€ 155,00

SJ016 Blooming Green Gray - Studio Jip

Brand New KitchenWalls Studio Jip 016 designed by Dutch Designer Jip! Such a simple way to change your kitchen!

Dim. width 300 x height 60 cm, so one horizontal stripe (incl. special glue)

Waterproof and stainproof, very easy to…

€ 155,00

SJ015 Blooming Nude - Studio Jip

Brand New KitchenWalls Studio Jip 015 designed by Dutch Designer Jip! Such a simple way to change your kitchen!

Dim. width 300 x height 60 cm, so one horizontal stripe (incl. special glue)

Waterproof and stainproof, very easy to…

€ 155,00

SJ014 Botanical Stones - Studio Jip

Brand New KitchenWalls Studio Jip 014 designed by Dutch Designer Jip! Such a simple way to change your kitchen!

Available in 2 designs. With or without the lovely plants.

Dim. width 300 x height 60 cm, so one horizontal stripe…

€ 155,00

SJ013 Horizon - Studio Jip

Brand New KitchenWalls Studio Jip 013 designed by Dutch Designer Jip! Such a simple way to change your kitchen!

Dim. width 300 x height 60 cm, so one horizontal stripe (incl. special glue)

Waterproof and stainproof, very easy to…

€ 155,00

PB031 - PuckB

Beautiful KitchenWalls PB031 designed by Dutch Designer PUCK! We love it!

Dim. width 300 x height 60 cm, so one horizontal stripe (incl. special glue)

Waterproof and stainproof, very easy to clean with a damp cloth.

Delivery…

€ 155,00

PB030 - PuckB

Beautiful KitchenWalls PB030 designed by Dutch Designer PUCK! We love it!

Dim. width 300 x height 60 cm, so one horizontal stripe (incl. special glue)

Waterproof and stainproof, very easy to clean with a damp cloth.

Delivery…

€ 155,00

PB029 - PuckB

Beautiful KitchenWalls PB029 designed by Dutch Designer PUCK! We love it!

Dim. width 300 x height 60 cm, so one horizontal stripe (incl. special glue)

Waterproof and stainproof, very easy to clean with a damp cloth.

Delivery…

€ 155,00

PB028 - PuckB

Beautiful KitchenWalls PB028 designed by Dutch Designer PUCK! We love it!

Dim. width 300 x height 60 cm, so one horizontal stripe (incl. special glue)

Waterproof and stainproof, very easy to clean with a damp cloth.

Delivery…

€ 155,00

SJ012 - Studio Jip

Brand New KitchenWalls Studio Jip 012 designed by Dutch Designer Jip! Such a simple way to change your kitchen!

Dim. width 300 x height 60 cm, so one horizontal stripe (incl. special glue)

Waterproof and stainproof, very easy to…

€ 155,00

SJ011 - Studio Jip

Brand New KitchenWalls Studio Jip 011 designed by Dutch Designer Jip! Such a simple way to change your kitchen!

Dim. width 300 x height 60 cm, so one horizontal stripe (incl. special glue)

Waterproof and stainproof, very easy to…

€ 155,00

SJ010 - Studio Jip

Brand New KitchenWalls Studio Jip 010 designed by Dutch Designer Jip! Such a simple way to change your kitchen!

Dim. width 300 x height 60 cm, so one horizontal stripe (incl. special glue)

Waterproof and stainproof, very easy to…

€ 155,00

SJ009 - Studio Jip

Brand New KitchenWalls Studio Jip 009 designed by Dutch Designer Jip! Such a simple way to change your kitchen!

Dim. width 300 x height 60 cm, so one horizontal stripe (incl. special glue)

Waterproof and stainproof, very easy to…

€ 155,00

SJ008 - Studio Jip

Brand New KitchenWalls Studio Jip 008 designed by Dutch Designer Jip! Such a simple way to change your kitchen!

Dim. width 300 x height 60 cm, so one horizontal stripe (incl. special glue)

Waterproof and stainproof, very easy to…

€ 155,00

1460 - DIRTY CONCRETE

Industrial in warm colors! KitchenWalls horizontal backsplash wallpaper DIRTY CONCRETE.

Upgrade your kitchen backsplash within one hour with our waterproof and heat resistant wallpaper. Seamless roll of width 300 x h60 cm. Can be…

€ 135,00

PB027 - PuckB

Beautiful KitchenWalls PB027 designed by Dutch Designer PUCK! Such a simple way to change your kitchen!

Dim. width 300 x height 60 cm, so one horizontal stripe (incl. special glue)

Waterproof and stainproof, very easy to clean…

€ 155,00

Design Collection PB026

Beautiful KitchenWalls PB026 designed by Dutch Designer PUCK! Such a simple way to change your kitchen!

Dim. width 300 x height 60 cm, so one horizontal stripe (incl. special glue)

Waterproof and stainproof, very easy to clean…

€ 155,00

SJ005 - Studio Jip

Brand New KitchenWalls Studio Jip 005 designed by Dutch Designer Jip! Such a simple way to change your kitchen!

Dim. width 300 x height 60 cm, so one horizontal stripe (incl. special glue)

Waterproof and stainproof, very easy to…

€ 155,00

SJ004 - Studio Jip

Brand New KitchenWalls Studio Jip 004 designed by Dutch Designer Jip! Such a simple way to change your kitchen!

Dim. width 300 x height 60 cm, so one horizontal stripe (incl. special glue)

Waterproof and stainproof, very easy to…

€ 155,00

SJ003 - Studio Jip

Brand New KitchenWalls Studio Jip 003 designed by Dutch Designer Jip! Such a simple way to change your kitchen!

Dim. width 300 x height 60 cm, so one horizontal stripe (incl. special glue)

Waterproof and stainproof, very easy to…

€ 155,00

SJ002 - Studio Jip

Brand New KitchenWalls Studio Jip 002 designed by Dutch Designer Jip! Such a simple way to change your kitchen!

Dim. width 300 x height 60 cm, so one horizontal stripe (incl. special glue)

Waterproof and stainproof, very easy to…

€ 155,00

SJ001 - Studio Jip

Brand New KitchenWalls Studio Jip 001 designed by Dutch Designer Jip! Such a simple way to change your kitchen!

Dim. width 300 x height 60 cm, so one horizontal stripe (incl. special glue)

Waterproof and stainproof, very easy to…

€ 155,00

1461 - PORTUGAL 2

Stop your search for a wonderful looking kitchen backsplash. Within one hour you could have this stunning wallpaper placed to the wall of your kitchen. So add some jungle into your kitchen with this trendy vintage look…

€ 135,00

PB025 - PuckB

Beautiful KitchenWalls PB025 designed by Dutch Designer PUCKB! Such a simple way to change your kitchen!

Dim. width 300 x height 60 cm, so one horizontal stripe (incl. special glue)

Waterproof and stainproof, very easy to clean…

€ 155,00

PB024 - PuckB

Beautiful KitchenWalls PB024 designed by Dutch Designer PUCK! We love it!

Dim. width 300 x height 60 cm; one horizontal stripe. (incl. special glue)

Delivery time between 1 and 2 weeks

Great in the bathroom as well! Special…

€ 155,00

1462 - GLOSSY VINTAGE

KitchenWalls special: backsplash wallpaper GLOSSY VINTAGE in stylish retro tile pattern. Beautiful in any kitchen!

Standard size width 300 x height 60 cm. glue included - 1 horizontal roll

Special sizes on demand by…

€ 135,00

1463 - CEMENT TILE GREY

KitchenWalls special: backsplash wallpaper CEMENT TILE GREY in stylish tile pattern. Beautiful in any kitchen!

Standard size width 300 x height 60 cm. glue included - 1 horizontal roll

Special sizes on demand by MAIL

Waterproof…

€ 135,00

SJ006 - SPRING IS COMING by Studio Jip

KitchenWalls special: Let de warmth in with this design; SPRING IS COMING by Studio Jip!

Standard size width 300 x height 60 cm. glue included - 1 horizontal roll

Special sizes on demand by MAIL

Waterproof and stain resistant.…

€ 155,00

1464 - BROWN TILE

KitchenWalls special: backsplash wallpaper BROWN TILE for a seventies yet modern look for your kitchen!

Standard size width 300 x height 60 cm. glue included - 1 horizontal roll

Special sizes on demand by MAIL

Waterproof and…

€ 135,00

PB022 - Granite Hexagon - PuckB

Beautiful KitchenWalls PB022 designed by Dutch Designer PUCK! We love it!

Dim. width 300 x height 60 cm, so one horizontal stripe (incl. special glue)

Waterproof and stainproof, very easy to clean with a damp cloth.

Delivery…

€ 155,00

PB021 - PuckB

Beautiful KitchenWalls PB021 designed by Dutch Designer PUCK! We love it!

Dim. width 300 x height 60 cm, so one horizontal stripe (incl. special glue)

Waterproof and stainproof, very easy to clean with a damp cloth.

Delivery…

€ 155,00

PB020 - PuckB

Beautiful KitchenWalls PB020 designed by Dutch Designer PUCK! We love it!

Dim. width 300 x height 60 cm; one horizontal stripe. (incl. special glue)

Delivery time between 1 and 2 weeks

Great in the bathroom as well! Special…

€ 155,00

VW006 - Valesca van Waveren

Wonderful design VW006 SEALIFE by Dutch Valesca van Waveren in wonderful colours. This kitchen backsplash wallpaper will look absolutely great in every kitchen!

Delivery time 1-2 weeks. Special glue included. Very easy to apply…

€ 155,00

PB019 - PuckB

Beautiful KitchenWalls PB019 designed by Dutch Designer PUCK! We love it!

Dim. width 300 x height 60 cm, so one horizontal stripe (incl. special glue)

Waterproof and stainproof, very easy to clean with a damp cloth.

Delivery…

€ 155,00

PB018 - Granite - Terrazzo - PuckB

Beautiful KitchenWalls PB018 Granite- Terrazzo tile designed by Dutch Designer PUCK! We love it!

Dim. width 300 x height 60 cm, so one horizontal stripe (incl. special glue)

Waterproof and stainproof, very easy to clean with a…

€ 155,00

1465 - Hexagon thin

KitchenWalls special: backsplash wallpaper HEXAGON thin with thin lines in cappuchino color.

Standard size w300 x h60 cm. glue included. Special sizes on demand by MAIL

Waterproof and stain resistant.

Delivery time around 1,5…

€ 135,00

PB017 - PuckB

Beautiful KitchenWalls PB017 designed by Dutch Designer PUCK to make any kitchen special!

Dim. width 300 x height 60 cm, so one horizontal stripe (incl. special glue)

Waterproof and stainproof, very easy to clean with a damp…

€ 155,00

PB016 - PuckB

Beautiful KitchenWalls PB016 designed by Dutch Designer PUCK! Such an easy way to spice up your kitchen.

Dim. width 300 x height 60 cm, so one seamless horizontal stripe (incl. special glue)

Waterproof and stainproof, very easy…

€ 155,00

PB014 - PuckB

Beautiful KitchenWalls PB014 designed by Dutch Designer PUCK! Just enough to add some color to your kitchen.

Dim. width 300 x height 60 cm, so one seamless horizontal stripe (incl. special glue)

Waterproof and stainproof, very…

€ 155,00

PB013 - PuckB

Beautiful KitchenWalls PB013 designed by Dutch Designer PUCK! We love it!

Dim. width 300 x height 60 cm, so one seamless horizontal stripe (incl. special glue)

Waterproof and stainproof, very easy to clean with a damp…

€ 155,00

PB012 - PuckB

Beautiful KitchenWalls PB012 designed by Dutch Designer PUCK! We love it!

Dim. width 300 x height 60 cm, so one seamless horizontal stripe (incl. special glue)

Waterproof and stainproof, very easy to clean with a damp…

€ 155,00

PB011 - PuckB

Need some color in your kitchen? How about this stunning KitchenWalls PB011 designed by Dutch Designer PUCK! Beautiful.

Dim. width 300 x height 60 cm, so one seamless horizontal stripe (incl. special glue)

Waterproof and…

€ 155,00

PB009 - PuckB

Beautiful KitchenWalls PB009 designed by Dutch Designer PUCK! Soft green flowers, we love it!

Dim. width 300 x height 60 cm, so one seamless horizontal stripe (incl. special glue)

Waterproof and stainproof, very easy to clean…

€ 155,00

PB010 - PuckB

Beautiful KitchenWalls PB010 designed by Dutch Designer PUCK! Soft blue flowers, we love it!

Dim. width 300 x height 60 cm, so one seamless horizontal stripe (incl. special glue)

Waterproof and stainproof, very easy to clean…

€ 155,00

PB008 - PuckB

Beautiful KitchenWalls PB008 designed by Dutch Designer PUCK! Beautiful cactuses combined with concrete, we love it!

Dim. width 300 x height 60 cm, one horizontal stripe. (incl. special glue)

Water- and stain proof!

Delivery…

€ 155,00

PB007 - PuckB

Beautiful KitchenWalls PB007 designed by Dutch Designer PUCK! Beautiful flowers combined with concrete, we love it!

Dim. width 300 x height 60 cm, so one horizontal stripe (incl. special glue)

Waterproof and stainproof, very…

€ 155,00

PB006 - PuckB

Beautiful KitchenWalls PB006 designed by Dutch Designer PUCK! Skyline of soft blue mountains, we love it!

Dim. width 300 x height 60 cm, so one horizontal stripe (incl. special glue)

Waterproof and stainproof, very easy to clean…

€ 155,00

PB005 - PuckB

Beautiful KitchenWalls PB005 designed by Dutch Designer PUCK! Soft green blue flowers combined with marble, we love it!

Dim. 60 x 300 cm. (incl. special glue)

Delivery time between 1 and 2 weeks

Great in the bathroom as well!…

€ 155,00

PB004 - PuckB

Beautiful KitchenWalls PB004 designed by Dutch Designer PUCK! Nude flowers combined with concrete, such a simple way to change your kitchen!

Dim. width 300 x height 60 cm, so one horizontal stripe (incl. special glue)

Waterproof…

€ 155,00

PB003 - PuckB

Beautiful KitchenWalls PB003 designed by Dutch Designer PUCK! Flowers combined with concrete to spice up your kitchen.

Dim. width 300 x height 60 cm, so one horizontal stripe (incl. special glue)

Waterproof and stainproof, very…

€ 155,00

PB002 - PuckB

Beautiful KitchenWalls PB002 designed by Dutch Designer PUCK! Soft green hexagon tiles combined with plaster and a little mosaic, we love it!

Dim. height 60 x width 300 cm. (incl. special glue)

Waterproof and stain…

€ 155,00

1458 - SEVENTIES

Hot again! Revival of the SEVENTIES with this KitchenWalls waterproof wallpaper backplash with lovely brown tiles print.

Upgrade your kitchen backsplash within one hour with our waterproof and heat resistant wallpaper. Seamless…

€ 135,00

PB001 - PuckB

Beautiful KitchenWalls PB001 designed by Dutch Designer PUCK! Soft green hexagon tiles combined with plaster and a little mosaic, we love it!

Dim. width 300 x height 60 cm, so one horizontal stripe (incl. special…

€ 155,00

1457 - LOBSTER

Ever matching old Dutch 'Whites' tiles in subtile color shades with a large red lobster.

Upgrade your kitchen backsplash within one hour with our waterproof and heat resistant wallpaper. Seamless roll of width 300 x h60 cm. Can…

€ 135,00

1456 - WHITES (2 designs)

Ever matching old Dutch 'Whites' tiles in subtile color shades. Available in plain tiles or with a bouquet of flowers.

Upgrade your kitchen backsplash within one hour with our waterproof and heat resistant wallpaper. Seamless…

€ 135,00

1455 - BERBER

The soft looks of a rug but the with a smooth texture for optimal use this KitchenWalls backsplash wallpaper BERBER.

Upgrade your kitchen backsplash within one hour with our waterproof and heat resistant wallpaper. Seamless roll…

€ 135,00

1454 - BISTRO

Stunning vintage tile effect with this KitchenWalls backsplash wallpaper BISTRO to add some color to your kitchen!

Upgrade your kitchen backsplash within one hour with our waterproof and heat resistant wallpaper. Seamless roll of…

€ 135,00

1467 - KitchenWalls STEEL

Upgrade your kitchen with our waterproof seamless wallpaper STEEL to get a stunning industrial look. Pretty cool right?

- dim. w300 x h60 cm (special sizes on request)
- glue included
- delivery time around 2 weeks
- very easy…

€ 135,00

1453 - BLUE TRIANGLE

Stunning 3d effect with these KitchenWalls backsplash wallpaper with photographed cement tiles BLUE TRIANGLE.

Upgrade your kitchen backsplash within one hour with our waterproof and heat resistant wallpaper. Seamless roll of…

€ 135,00

1451 - FISH SCALE (2 colors)

Stunning shiny Fish Scale tiles in turquoise or dark green. This will definately spice up your kitchen!

Made of a new pvc wallpaper this is THE solution. Very easy to apply with the enclosed glue and cut to fit. Completely water-…

€ 135,00

VW005 - Valesca van Waveren

Wonderful CACTI design by Dutch Valesca van Waveren in wonderful colours. This kitchen backsplash wallpaper will look absolutely great in every kitchen!

Delivery time 1-2 weeks. Special glue included. Very easy to apply and cut…

€ 155,00

1448 - AZULEJOS green

Add some colour to your kitchen with this backsplash wallpaper Azulejos Green. Within one hour you could have this stunning waterproof wallpaper placed to the wall of your kitchen.

Made of a new pvc wallpaper this is THE…

€ 135,00

1445 - FISH

Beautiful drawing of a sardine at a background of 'oude witjes' (Dutch Old Whites).

Available in 2 versions: fish on left or right side.

Very easy to apply with the enclosed glue and cut to fit. Water- and fireproof so also…

€ 135,00

1443 - White bricks painted (2 designs)

Create a cool industrial look in your kitchen with our backsplash wallpaper White Bricks.

Available in standard bricks and building bricks.

Very easy to apply with the enclosed glue and cut to fit. Water- and fireproof so also…

€ 135,00

1466 - FACTORY

Stop your search for a wonderful looking kitchen backsplash. Within one hour you could have this stunning industrial wallpaper FACTORY placed to the wall of your kitchen. Lovely in both modern as classic kitchens.

Made of a new…

€ 135,00

VW004 - Valesca van Waveren

Another stunning Flora & Fauna design by Dutch Valesca van Waveren in wonderful colours. This kitchen backsplash wallpaper will look absolutely great in every kitchen!

Delivery time 1-2 weeks. Special glue included. Very easy to…

€ 155,00

VW003 - Valesca van Waveren

Another lovely design by Dutch Valesca van Waveren in several blue watercolours. This kitchen backsplash wallpaper will look absolutely stunning in every kitchen!

Delivery time 1-2 weeks. Special glue included.

Waterproof and…

€ 155,00

1446 - MARBLE (2 colors)

Stop your search for a wonderful looking kitchen backsplash. Within one hour you could have this stunning wallpaper MARBLE placed to the wall of your kitchen. Lovely in both modern as classic kitchens.

Available in light or dark…

€ 135,00

VW002 - Valesca van Waveren

Stunning new design by Valesca van Waveren in beautiful green watercolour shades for our KitchenWalls backsplash design collection. We love it!

This backsplash wallpaper with soft aquarel colors combined with small lovely insects…

€ 155,00

1440 - GREY OAK

Great backsplash wallpaper by KitchenWalls: greyd oak wood in a stunning pattern. Great in both contemporary as classic kitchens.

Dim. 60 x 300 cm. (incl. special glue)

Delivery time between 1 and 2 weeks

€ 135,00

1439 - VEGGIES

Colour up your kitchen backsplash with this stunning KitchenWalls wallpaper with abstract vegetables, lovely!

Dim. 60 x 300 cm. (incl. special glue)

Delivery time between 1 and 2 weeks

Waterproof pvc material. Can be easily cut…

€ 135,00

1437 - SLATE TILES

KitchenWalls backsplash wallpaper SLATE TILES. Beautiful industrial and contemporary look in your kitchen! Just like the real ones only way easier to clean.

Dim. 60 x 300 cm. (incl. special glue)

Delivery time between 1 and 2…

€ 135,00

1435 - HERRINGBONE - 3 colours

Contemporary tile in herringbone. A new classic!

Available in white, green or yellow.

Dim. 60 x 300 cm. (incl. special glue)

Delivery time between 1 and 2 weeks

Great in the bathroom as well!

€ 135,00

MAJOLICA 1434

Beautiful rare Majolica tiles as your new kitchen backsplash, pretty cool! You can hardly tell the difference from the real ones, exept for the price!

Dim. 60 x 300 cm. (incl. special glue)

Delivery time between 1 and 2…

€ 135,00

VW001 - Valesca van Waveren

Oh my, did Valesca make us extremely happy by making us this beautiful happy spring-feel KitchenWalls kitchen wallpaper!

This backsplash wallpaper with soft aquarel colors combined with small lovely insects will most certainly…

€ 155,00

1450 - ART DECO

Stop your search for a wonderful looking kitchen backsplash. Within one hour you could have this stunning wallpaper placed to the wall of your (Ikea) kitchen. If you are into Art Nouveau and Jugendstil these beautiful ART DECO…

€ 135,00

1444 - ITALY

Stop your search for a wonderful looking kitchen backsplash. Within one hour you could have this stunning wallpaper placed to the wall of your kitchen. We are in love with these wonderful old Italian tiles set in cement, just like…

€ 135,00

1433 - GOLDEN AGE (2 designs)

Beautiful detailed old blue Dutch tiles combined with some yellowgolden ones, stunning!

Dim. 60 x 300 cm. (incl. special glue)

Delivery time between 1 and 2 weeks

This KitchenWalls wallpaper will look great in the bathroom as…

€ 135,00

1432 - DELFT

No need to look any further for special old Dutch tiles! Just like the real Delfts blue tiles with some crackes and small damages, like grandma used to have!

Dim. 60 x 300 cm. Special glue included.

Delivery time between 1 and 2…

€ 135,00

1431 - TADELAKT

Always wanted a nice Maroccan tadelakt or Pandomo wall but found it too expensive? No need to surch any longer for a great alternative!

Dim. 60 x 300 cm. Special glue included.

Delivery time between 1 and 2 weeks

€ 135,00

1430 - IBIZA

For a every day happy feel you choose our KitchenWalls backsplash IBIZA; sun all over!

Dim. 60 x 300 cm. Special glue included.

Delivery time between 1 and 2 weeks

€ 135,00

1429 - GLASS WALL

No or little windows in your kitchen? Solve it easily with our backsplash of this industrial glass wall!

Dim. 60 x 300 cm. Special glue included.

Delivery time between 1 and 2 weeks.

€ 135,00

1427 - CUTLERY - 2 colours

Great vintage cutlery drawing on a greige or dark grey background. Prefer the cutlery on a different spot? Just let us know during the order process.

Dim. 60 x 300 cm. Special glue included.

Delivery time between 1 and 2 weeks.

€ 135,00

1426 - SPAIN

Detailed picture of old handpainted Spanish tiles with tiny scratches, as if you saved and recycled them yourselve!

Dim. 60 x 300 cm. Special glue included.

Delivery time between 1 and 2 weeks.

€ 135,00

1425 - ORNAMENT - 3 colours

Great vintage pattern in yellow, grey or blue. Pretty cool backsplash in both classic as modern kitchens.

Dim. 60 x 300 cm. Special glue included.

Delivery time +/- 1 week

€ 135,00

1424 - VINTAGE FLOWER

Cosy blue / green pattern which fits in both classic and contemporary interiors! Adorable in the bathroom as well.

Dim. 60 x 300 cm. Special glue included.

Delivery time between 1 and 2 weeks.

€ 135,00

1423 - PLUS

Great trendy PLUS pattern in wonderful colours, a must have kitchen backsplash!

Dim. 60 x 300 cm. Special glue included.

Delivery time between 1 and 2 weeks.

€ 135,00

1422 - FRESCO

Like an old, grungy wall painting; for a modern industrial look!

Dim. h60 x w300 cm. Glue included.

Delivery time between 1 and 2 weeks.

Waterproof and stain resistant seamless pvc backsplash wallpaper. Easy to apply. Removable…

€ 135,00

1420 - VEGETABLES

Lovely drawn forgotten and new vegetables in a vintage look for your daily portion of vitamines. This kitchen backsplash will look great in both modern as classic kitchens!

dim. 60 x 300 cm. (incl. special glue)

Delivery time…

€ 135,00

1419 - DUTCH

Revival of old times. Delfts blue tile print made completely modern again.

Dim. 60 x 300 cm. (special glue included)

Delivery time between 1 and 2 weeks.

∙
∙

€ 135,00

1418 - HEXAGON

One of the most beautiful tiles, the Hexagon. In classy offwhite.

Dim. height 60 x width 300 cm. (special glue included) Horizontal stripe

Delivery time between 1 and 2 weeks

€ 135,00

1415 - MAROC - 3 colours

Loverly colourful pattern inspired by the well know Maroccan mozaic tiles. Available in bright or retro colours. One of our most populair kitchen backsplash patterns!

Dim. 60 x 300 cm. (special glue included)

Delivery time…

€ 135,00

1414 - FLOWER

Large flowery pattern in black and white, very decorative! Wouldn't it look stunning in your kitchen?

Dim. 60 x 300 cm. (incl. special glue)

Delivery time between 1 and 2 weeks

€ 135,00

1412 - GREY TILE 1412 - 3 colours

Contemporary grey concrete tile. Available in light, concrete, and dark grey.

Dim. 60 x 300 cm. (incl. special glue)

Delivery time between 1 and 2 weeks

€ 135,00

1410 - ORIENTAL

Inspired by the Oriental tile, in warm red/brown. Such a lovely kitchen backsplash.

Dim. width 300 x height 60 cm. (incl. special glue) so 1 horizontal stripe.

Delivery time between 1 and 2 weeks

Waterproof and stain resistant…

€ 135,00

1409 - VINTAGE TILE

Just like granny's kitchen these wonderful vintage tiles in blue. Will look great in both modern as rustic kitchens.

Dim. 60 x 300 cm. Special glue included

Delivery time between 1 and 2 weeks.

Kitchen by The Big Easy

€ 135,00

1408 - CONCRETE (2 designs)

Concrete with a tiny little rust, such a nice industrial looking kitchen backsplash wallpaper.

Dim. 60 x 300 cm. (special glue included)

Delivery time between 1 and 2 weeks

Easy to apply. Water and stain proof. Clean with damp…

€ 135,00

1407 - RECLAIMED WOOD

Stunning backsplash wallpaper with reclaimed wood panneling with a little paint. No need to sand and lacker it and no worries for splinters!

Dim. 60 x 300 cm. Special glue included

Delivery time between 1 and 2 weeks

€ 135,00

1406 - RETRO GREEN

Lovely soft green with a retro all over pattern. One of our most populair kitchen backsplashes and also often used in the bathroom!

Dim. 60 x 300 cm. (incl. special glue)

Delivery time between 1 and 2 weeks

€ 135,00

1405 - WHITE 3D

Modern 3d look in beautiful white, very decorative.

Dim. 60 x 300 cm. (incl. special glue)

Delivery time between 1 and 2 weeks

€ 135,00

1402 - CIRCLE (2 colors)

Classic yet modern black and white or greige and white pattern, great in each interior.

Dim. width 300 x height 60 cm. (incl. special glue) so 1 horizontal stripe.

Delivery time between 1 and 2 weeks

Waterproof and stain…

€ 135,00

1401 - PORTUGAL

Detailed Portugese tiles in different sunny colours for your every day holiday feel!

Dim. width 300 x height 60 cm. (incl. special glue) so 1 horizontal stripe.

Delivery time between 1 and 2 weeks

Waterproof and stain resistant…

€ 135,00

1447 - BRONZE COPPER

Stop your search for a wonderful looking kitchen backsplash. Within one hour you could have this stunning wallpaper placed to the wall of your kitchen. In case you're in for an industrial kitchen you might consider this stunning…

€ 135,00