RebelWalls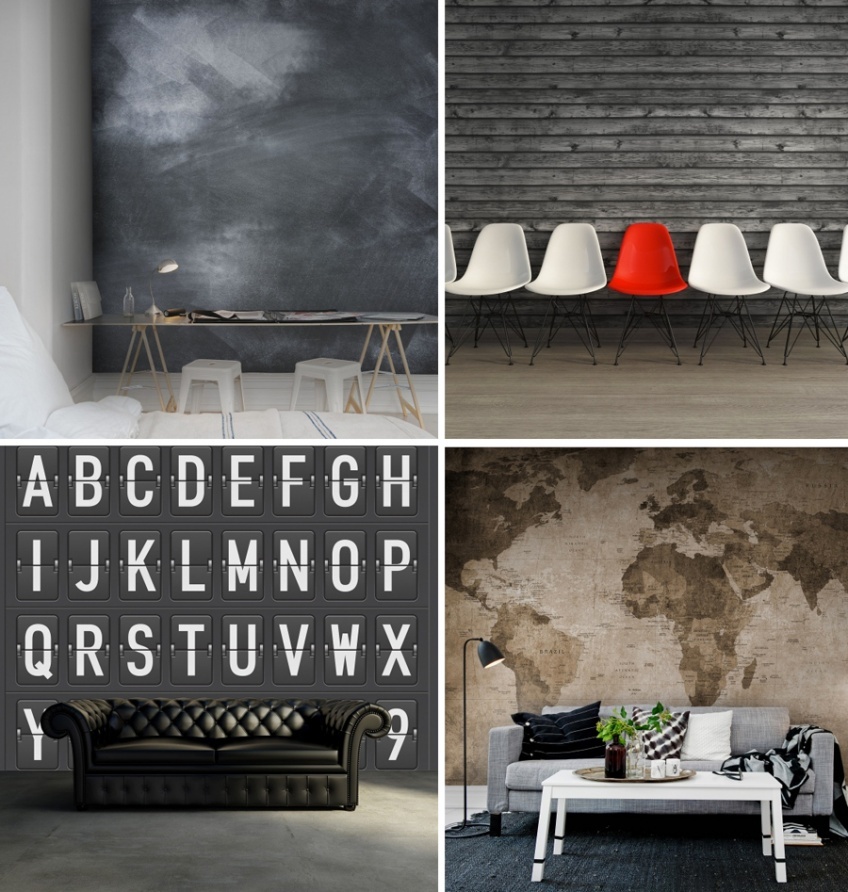 BE A REBEL AND MAKE A DIFFERENCE - IT'S ONLY WALLPAPER
Sure you dare!
Make a statement with this great design wallpaper from Sweden!
Rebel Walls wallpaper is made on demand on any size you want for Euro 45,00 per m2. This high quality non woven wallpaper is very easy to apply (paste the wall). Rolls of 45 cm. Delivery time around 1 week.
Want to have a visual on the requested size? Send us an email
In case you want something truly special, you choose one of the murals by the Designers Forum. For Euro 53,00 per m2 you will have a unique piece of wall art of your favourite designer!
FAIRYLAND (2 colors)

Stunning wallpaper jungle mural FAIRYLAND by Rebelwalls. Available in 2 lovely colors, vintage and graphite

Printed on smooth non woven wallpaper and easy to apply (paste the wall).

Available in any size you need for Euro 45,00…

PASTEL PETALS

Stunning wallpaper jungle mural PASTEL PETALS by Rebelwalls. Available in 3 lovely colors.

Printed on smooth non woven wallpaper and easy to apply (paste the wall).

Available in any size you need for Euro 45,00 per m2. Please…

BUMBLEBEE (3 colors)

Spring is in the Air!

Lovely romantic wallpaper jungle mural BUMBLEBEE by Rebelwalls. Available in 3 colors.

Printed on smooth non woven wallpaper and easy to apply (paste the wall).

Available in any size you need for Euro…

PRIDE PALMS (3 colors)

Stunning wallpaper jungle mural PRIDE PALMS by Rebelwalls. Available in 3 lovely colors.

Printed on smooth non woven wallpaper and easy to apply (paste the wall).

Available in any size you need for Euro 45,00 per m2. Please mail…

AFRAIM (5 colors)

Beautiful botanical wallpaper mural with large flowers AFRAIM by Rebelwalls. Available in 5 lovely colors.

Printed on smooth non woven wallpaper and easy to apply (paste the wall).

Available in any size you need for Euro 45,00…

GROW Lilac

Beautiful botanical wallpaper mural GROW Lilac by Rebelwalls. Collection Simplicity.

Printed on smooth non woven wallpaper and easy to apply (paste the wall).

Available in any size you need for Euro 45,00 per m2. Please mail us…

GROW Amber

Beautiful botanical wallpaper mural GROW Amber by Rebelwalls. Collection Simplicity.

Printed on smooth non woven wallpaper and easy to apply (paste the wall).

Available in any size you need for Euro 45,00 per m2. Please mail us…

RUBY Amber

Beautiful botanical wallpaper mural RUBY Amber by Rebelwalls. Collection Simplicity.

Printed on smooth non woven wallpaper and easy to apply (paste the wall).

Available in any size you need for Euro 45,00 per m2. Please mail us…

FANTASY WORLD (3 colors)

Stunning wallpaper mural FANTASY by Rebelwalls. Available in 3 lovely colors.

Printed on smooth non woven wallpaper and easy to apply (paste the wall).

Available in any size you need for Euro 45,00 per m2. Please mail us for a…

JAIPUR

Beautiful botanical wallpaper mural JAIPUR by Rebelwalls.

Printed on smooth non woven wallpaper and easy to apply (paste the wall).

Available in any size you need for Euro 45,00 per m2. Please mail us for a quotation and…

QATAR (3 colors)

Vintage tile wallpaper mural QATAR by Rebelwalls. Available in 3 lovely colors.

Printed on smooth non woven wallpaper and easy to apply (paste the wall).

Available in any size you need for Euro 45,00 per m2.Please mail us for a…

HONOLULU (3 colors)

Wonderful romantic wallpaper mural HONOLULU by Rebelwalls. Available in 3 lovely colors.

Printed on smooth non woven wallpaper and easy to apply (paste the wall).

Available in any size you need for Euro 45,00 per m2. Please mail…

TUNIS (3 colors)

Wonderful tile wallpaper mural TUNIS by Rebelwalls. Available in 3 lovely colors.

Printed on smooth non woven wallpaper and easy to apply (paste the wall).

Available in any size you need for Euro 45,00 per m2. Please mail us for…

TROPICAL BELLEWOOD NIGHT

Wonderful forest wallpaper mural TROPICAL BELLEWOOD NIGHT in nice vintage colors by Rebelwalls.

Printed on smooth non woven wallpaper and easy to apply (paste the wall).

Available in any size you need for Euro 45,00 per m2.…

TRES TINTAS FARRAEM

Beautiful wallpaper mural FARRAEM by Tres Tintas; produced by Rebelwalls Sweden! Great in every room!

Printed on smooth non woven wallpaper and easy to apply (paste the wall).

Available in any size you need - price Euro 53,00…

TRES TINTAS DAMASCO

Beautiful wallpaper mural DAMASCO by Tres Tintas; produced by Rebelwalls Sweden! Great in every room!

Printed on smooth non woven wallpaper and easy to apply (paste the wall).

Available in any size you need - price Euro 53,00…

TRES TINTAS HORTUS UMBRA

Beautiful wallpaper mural HORTUS UMBRA by Tres Tintas; produced by Rebelwalls Sweden! Great in every room!

Printed on smooth non woven wallpaper and easy to apply (paste the wall).

Available in any size you need - price Euro…

TRES TINTAS FENESTRA UMBRA

Beautiful wallpaper mural FENESTRA UMBRA by Tres Tintas; produced by Rebelwalls Sweden! Great in every room!

Printed on smooth non woven wallpaper and easy to apply (paste the wall).

Available in any size you need - price Euro…

AYERS ROCK (5 colors) trend collection

Stunning design wallpaper AYERS ROCK by Rebelwalls. Available in 5 colors. Trend collection 2/21.

Printed on smooth non woven wallpaper and easy to apply (paste the wall).

Available in any size you need for Euro 45,00 per m2.…

FRINGED FOLLIES (4 colors) trend collection

Stunning design wallpaper FRINGED FOLLIES by Rebelwalls. Available in 4 colors. Trend collection 2/21.

Printed on smooth non woven wallpaper and easy to apply (paste the wall).

Available in any size you need for Euro 45,00 per…

ZEBRA SKIN (4 colors) trend collection

Stunning design wallpaper ZEBRA SKIN by Rebelwalls. Available in 4 colors. Trend collection 2/21.

Printed on smooth non woven wallpaper and easy to apply (paste the wall).

Available in any size you need for Euro 45,00 per m2.…

MANHATTAN (5 colors) trend collection

Wonderful design wallpaper mural MANHATTAN by Rebelwalls. Available in 5 colors. Trendcollection 2/21.

Printed on smooth non woven wallpaper and easy to apply (paste the wall).

Available in any size you need for Euro 45,00 per…

TROPICAL BELLEWOOD

Wonderful forest wallpaper mural TROPICAL BELLEWOOD in nice vintage colors by Rebelwalls.

Printed on smooth non woven wallpaper and easy to apply (paste the wall).

Available in any size you need for Euro 45,00 per m2. Please…

Rebelwalls VINUM HEXAGON

Lovely wallpaper mural VINUM HEXAGON by Rebelwalls Sweden to bring some color to your interior!

Printed on smooth non woven wallpaper and easy to apply (paste the wall).

Available in any size you need - price Euro 45,00 per m2.…

Rebelwalls TOLEDO juniper

Lovely wallpaper mural TODEDO juniper by Rebelwalls Sweden. Collection Oddity.

Sold by the roll. Delivery time around 1 week.

We ship worldwide, no problem.

Please MAIL for any questions or help calculating.

Specifications cm…

€ 94,00

Rebelwalls ARLON green

Lovely wallpaper mural ARLON color green by Rebelwalls Sweden. Collection Oddity.

Sold by the roll. Delivery time around 1 week.

We ship worldwide, no problem.

Please MAIL for any questions or help calculating.

Specifications…

€ 94,00

Rebelwalls ARLON teal

Lovely wallpaper mural ARLON color teal by Rebelwalls Sweden. Collection Oddity.

Sold by the roll. Delivery time around 1 week.

Please MAIL for any questions or help calculating.

Specifications cm ft
Roll Length 1000 32 ft 9…

€ 94,00

Rebelwalls AQUILA rust

Lovely wallpaper mural AQUILA rust by Rebelwalls Sweden. Collection Oddity.

Sold by the roll. Delivery time around 1 week.

Please MAIL for any questions or help calculating.

Specifications cm ft
Roll Length 1000 32 ft 9 in
Roll…

€ 94,00

Rebelwalls MAURITIUS dusk

Lovely wallpaper mural MAURITIUS dusk by Rebelwalls Sweden to bring the jungle into your interior.

Printed on smooth non woven wallpaper and easy to apply (paste the wall).

Available in any size you need - price Euro 45,00 per…

Rebelwalls TEHRAN

Lovely wallpaper mural TEHRAN by Rebelwalls Sweden! How about creating a spectacular ceiling! Collection 21.

Printed on smooth non woven wallpaper and easy to apply (paste the wall).

Available in any size you need - price Euro…

Rebelwalls VINUM RASPEYS

Lovely wallpaper mural VINUM RASPEYS by Rebelwalls Sweden! Get some nature into your home!

Printed on smooth non woven wallpaper and easy to apply (paste the wall).

Available in any size you need - price Euro 45,00 per m2. Glue…

Rebelwalls WORLD MAP

Lovely wallpaper mural WORLD MAP in brown colors by Rebelwalls Sweden! Great in every room.

Printed on smooth non woven wallpaper and easy to apply (paste the wall).

Available in any size you need - price Euro 45,00 per m2. Glue…

Rebelwalls METROPOLIS MAZE

Lovely wallpaper mural METROPLIS MAZE in soft pink and terracotta colors by Rebelwalls Sweden! Great in every room.

Printed on smooth non woven wallpaper and easy to apply (paste the wall).

Available in any size you need - price…

Rebelwalls METROPOLIS

Lovely wallpaper mural METROPLIS in soft pink and terracotta colors by Rebelwalls Sweden! Great in every room.

Printed on smooth non woven wallpaper and easy to apply (paste the wall).

Available in any size you need - price Euro…

Rebelwalls HIDEAWAY

Lovely wallpaper mural HIDEAWAY by Rebelwalls Sweden! Great in every room.

Printed on smooth non woven wallpaper and easy to apply (paste the wall).

Available in any size you need - price Euro 45,00 per m2. Glue included.…

Mischievous TIGERS (3 colors)

Look close and you'll find the curious tigers hiding amongst the lush green foliage of this wallpaper. The jungle you create looks straightforward at first glance, whether it's on one wall or throughout a room – only revealing…

Rebelwalls SCANDINAVIAN BELLEWOOD Gray

Lovely wallpaper mural SCANDINAVIAN BELLEWOOD gray by Rebelwalls Sweden! Great in every room. Collection 15.

Printed on smooth non woven wallpaper and easy to apply (paste the wall).

Available in any size you need - price Euro…

Rebelwalls HARMONY (2 colors)

Lovely floral wallpaper mural HARMONY Grey by Rebelwalls Sweden! Great in every room. Collection 15.

Printed on smooth non woven wallpaper and easy to apply (paste the wall).

Available in any size you need - price Euro 45,00 per…

Rebelwalls AQUATIC LIFE (4 colors)

Lovely wallpaper mural AQUATIC LIFE with lots of fish by Rebelwalls Sweden! Great in every room. Collection 15.

Printed on smooth non woven wallpaper and easy to apply (paste the wall).

Available in any size you need - price…

Rebelwalls ARCH DECO Marble

Lovely wallpaper mural ARCH DECO Marble by Rebelwalls Sweden! Great in every room. Collection 15.

Printed on smooth non woven wallpaper and easy to apply (paste the wall).

Available in any size you need - price Euro 45,00 per…

Rebelwalls CYGNE (4 colors)

Lovely wallpaper mural CYGNE with swans by Rebelwalls Sweden! Great in every room. Collection 15.

Printed on smooth non woven wallpaper and easy to apply (paste the wall).

Available in any size you need - price Euro 45,00 per…

Rebelwalls RAKU CRACKLE Cream

Beautiful wallpaper mural RAKU CRACKLE Cream by Rebelwalls Sweden! Great in every room, even on the ceiling!. Collection 15.

Printed on smooth non woven wallpaper and easy to apply (paste the wall).

Available in any size you…

Rebelwalls BELLEWOOD FROST

Beautiful wallpaper mural BELLEWOOD FROST by Rebelwalls Sweden! Great in every room! Collection 15.

Printed on smooth non woven wallpaper and easy to apply (paste the wall).

Available in any size you need - price Euro 45,00 per…

Rebelwalls OPULENCE marble

Beautiful wallpaper mural OPULENCE Marble by Rebelwalls Sweden! Great in every room! Collection 15.

Printed on smooth non woven wallpaper and easy to apply (paste the wall).

Available in any size you need - price Euro 45,00 per…

Rebelwalls PERSPECTIVE JARDIN noir

Beautiful wallpaper mural PERSPECTIVE JARDIN Noir by Rebelwalls Sweden! Great in every room! Collection 15.

Printed on smooth non woven wallpaper and easy to apply (paste the wall).

Available in any size you need - price Euro…

Rebelwalls ANIMAL WORLD

Beautiful world map wallpaper mural ANIMAL WORLD by Rebelwalls Sweden! Great in every room! Collection 15.

Printed on smooth non woven wallpaper and easy to apply (paste the wall).

Available in any size you need - price Euro…

Rebelwalls OPULENCE Jade

Beautiful modern wallpaper mural OPULENCE by Rebelwalls Sweden! Great in every room! Collection 15.

Printed on smooth non woven wallpaper and easy to apply (paste the wall).

Available in any size you need - price Euro 45,00 per…

Rebelwalls HEXAGON LEAVES

Beautiful green wallpaper mural HEXAGON LEAVES by Rebelwalls Sweden! Great in every room! Collection 15.

Printed on smooth non woven wallpaper and easy to apply (paste the wall).

Available in any size you need - price Euro 45,00…

SCANDINAVIAN BELLEWOOD (5 colors)

Wonderful forest wallpaper mural SCANDINAVIAN BELLEWOOD in green colors by Rebelwalls.

Printed on smooth non woven wallpaper and easy to apply (paste the wall).

Available in any size you need for Euro 45,00 per m2. Glue…

Rebelwalls RABBIT HOLE (2 colors)

Beautiful romantic wallpaper mural RABBIT HOLE by Rebelwalls Sweden! Great in every room! Available in two lovely colors.

Printed on smooth non woven wallpaper and easy to apply (paste the wall).

Available in any size you need -…

Rebelwalls ALICE'S GARDEN (2 colors)

Beautiful romantic wallpaper mural ALICE'S GARDEN by Rebelwalls Sweden! Great in every room! Available in two lovely colors.

Printed on smooth non woven wallpaper and easy to apply (paste the wall).

Available in any size you…

Rebelwalls VIGOR (2 colors)

Beautiful romantic wallpaper mural VIGOR by Rebelwalls Sweden! Great in every room! Available in two lovely colors.

Printed on smooth non woven wallpaper and easy to apply (paste the wall).

Available in any size you need - price…

TRES TINTAS SILVA

Beautiful vintage look wallpaper mural SILVA by Tres Tintas; produced by Rebelwalls Sweden! Great in every room!

Printed on smooth non woven wallpaper and easy to apply (paste the wall).

Available in any size you need - price…

TRES TINTAS PAGO

Beautiful vintage look wallpaper mural PAGO by Tres Tintas; produced by Rebelwalls Sweden! Great in every room!

Printed on smooth non woven wallpaper and easy to apply (paste the wall).

Available in any size you need - price…

Rebelwalls GRAPHIC

Beautiful wallpaper mural GRAPHIC by Rebelwalls Sweden! Great in every room!

Printed on smooth non woven wallpaper and easy to apply (paste the wall).

Available in any size you need - price Euro 45,00 per m2. Glue included.…

TRES TINTAS FLORENCE

Beautiful vintage look wallpaper mural FLORENCE by Tres Tintas; produced by Rebelwalls Sweden! Great in every room!

Printed on smooth non woven wallpaper and easy to apply (paste the wall).

Available in any size you need - price…

Rebelwalls SOLAR SYSTEM (2 colors)

Beautiful modern wallpaper mural SOLAR SYSTEM by Rebelwalls Sweden! Great in every room! Available in two colors.

Printed on smooth non woven wallpaper and easy to apply (paste the wall).

Available in any size you need - price…

Rebelwalls ASANA

Beautiful modern wallpaper mural ASANA by Rebelwalls Sweden! Great in every room!

Printed on smooth non woven wallpaper and easy to apply (paste the wall).

Available in any size you need - price Euro 45,00 per m2. Glue included.…

Rebelwalls OPULENCE (2 colors)

Beautiful modern wallpaper mural OPULENCE by Rebelwalls Sweden! Great in every room! Available in two colors.

Printed on smooth non woven wallpaper and easy to apply (paste the wall).

Available in any size you need - price Euro…

Rebelwalls BALANCE

Beautiful modern wallpaper mural BALANCE by Rebelwalls Sweden! Great in every room!

Printed on smooth non woven wallpaper and easy to apply (paste the wall).

Available in any size you need - price Euro 45,00 per m2. Glue…

Rebelwalls WE ARE ROBOTS

We are in love with this beautiful wallpaper mural WE ARE ROBOTS by Rebelwalls Sweden! Great in every room!

Printed on smooth non woven wallpaper and easy to apply (paste the wall).

Available in any size you need - price Euro…

Rebelwalls CLIFF CASTLE

We are in love with this beautiful wallpaper mural CLIFF CASTLE by Rebelwalls Sweden! Great in every room!

Printed on smooth non woven wallpaper and easy to apply (paste the wall).

Available in any size you need - price Euro…

Rebelwalls CONCRETE ART SWALLOW (2 colors)

Boost your interior with this beautiful wallpaper mural CONCRETE ART SWALLOW by Rebelwalls Sweden! Availalbe in two colors.

Printed on smooth non woven wallpaper and easy to apply (paste the wall).

Available in any size you need…

Rebelwalls GIRAFFE'S STROLL (2 colors)

Boost your interior with this beautiful jungle wallpaper mural GIRAFFE'S STROLL by Rebelwalls Sweden! Availalbe in two colors.

Printed on smooth non woven wallpaper and easy to apply (paste the wall).

Available in any size you…

Rebelwalls LUSH FOLIAGE (3 colors)

Boost your interior with this lovely wallpaper mural LUSH FOLIAGE by Rebelwalls Sweden! Availalbe in two colors.

Printed on smooth non woven wallpaper and easy to apply (paste the wall).

Available in any size you need - price…

Rebelwalls CHINOISERIE CHIC (3 colors)

Boost your interior with this lovely wallpaper mural CHINOISERIE CHIC by Rebelwalls Sweden! Availalbe in three colors.

Printed on smooth non woven wallpaper and easy to apply (paste the wall).

Available in any size you need -…

Rebelwalls DANDELIONS

Boost your interior with this lovely wallpaper mural DANDELIONS by Rebelwalls Sweden!

Printed on smooth non woven wallpaper and easy to apply (paste the wall).

Available in any size you need - price Euro 45,00 per m2. Glue…

Rebelwalls PINE FOREST

Boost your interior with this beautiful wallpaper mural PINE FOREST by Rebelwalls Sweden!

Printed on smooth non woven wallpaper and easy to apply (paste the wall).

Available in any size you need - price Euro 45,00 per m2. Glue…

Rebelwalls WILD WILLOWS

Real lovely for your nursery or toddler room: wallpaper mural WILD WILLOWS by RebelWalls.

Printed on smooth non woven wallpaper and easy to apply (paste the wall).

Available in any size you need - price Euro 45,00 per m2. Glue…

Rebelwalls DRIPPING ICE CREAM

Colorful and seventies; lovely wallpaper mural DRIPPING ICE CREAM by RebelWalls.

Printed on smooth non woven wallpaper and easy to apply (paste the wall).

Available in any size you need - price Euro 45,00 per m2. Glue included.…

Rebelwalls POPPIES

Lovely floral wallpaper mural POPPIES by RebelWalls.

Printed on smooth non woven wallpaper and easy to apply (paste the wall).

Available in any size you need - price Euro 45,00 per m2. Glue included. Printed on high quality…

Rebelwalls PERENNIALS (2 colors)

Lovely seventies look wallpaper PERENNIALS by RebelWalls. Available in two colors.

Printed on smooth non woven wallpaper and easy to apply (paste the wall).

Available in any size you need - price Euro 45,00 per m2. Glue…

Rebelwalls THE BAY

Lovely seventies look wallpaper THE BAY by RebelWalls.

Printed on smooth non woven wallpaper and easy to apply (paste the wall).

Available in any size you need - price Euro 45,00 per m2. Glue included. Printed on high quality…

Rebelwalls SIMILARITIES

Lovely seventies look wallpaper SIMILARITIES by RebelWalls.

Printed on smooth non woven wallpaper and easy to apply (paste the wall).

Available in any size you need - price Euro 45,00 per m2. Glue included. Printed on high…

Rebelwalls PRIDE PALMS (2 colors)

Lovely vintage look wallpaper PRIDE PALMS by RebelWalls. Available in two colors.

Printed on smooth non woven wallpaper and easy to apply (paste the wall).

Available in any size you need - price Euro 45,00 per m2. Glue included.…

Rebelwalls FLOWER PARADE

Lovely seventies look wallpaper FLOWER PARADE by RebelWalls.

Printed on smooth non woven wallpaper and easy to apply (paste the wall).

Available in any size you need - price Euro 45,00 per m2. Glue included. Printed on high…

Rebelwalls AX

LET CEREAL GRAINS ADORN YOUR ROOM

Carl Larsson was fascinated by the beauty of nature and decorated all rooms with flowers from the wild and the garden. This wallpaper has taken its inspiration from the submission to a book…

Rebelwalls MIDSOMMAR

This mural wallpaper is the result of a merger of three iconic paintings signed by Carl Larsson. Let the focus of your eyes alter between the foreground and the background in this mesmerizing wall mural. Poppy flowers in a…

Rebelwalls OPULENT SHADOWS

ELEGANT ART DECO WALLPAPER WITH PALM LEAVES

Shadow play on an extravagant backdrop from days in the past. Luxurious and dreamy for a room of any artist – real or aspiring.

Stunning wallpaper mural OPULENT SHADOWS by…

Rebelwalls DOVE GARDENS

Majestic arches rise to the sky and supply a welcomed beam for a company of doves to rest their wings. Incorporate this design in your interior to bring light, greenery, and peace to the room. Available in 2 designs.

Stunning…

Rebelwalls FOREST VAULTS

GLIMPSES FROM ONCE UPON A SUMMERTIME

Brush strokes in thousands put together beautifully into paintings of a forest path in the summertime. Wonderfully framed by white stone vaults. Stunning wallpaper mural by…

Rebelwalls SWAN LAKE (2 colors)

Lovely wallpaper mural SWAN LAKE in black & white or dark Nightfall by Rebel Walls Sweden.

Printed on smooth non woven wallpaper and easy to apply (paste the wall).

Available in any size you need - price Euro 45,00 per m2. Glue…

Rebelwalls ARCH DECO (2 colors)

Beautiful art nouveau style wallpaper mural ARCH DECO in beautiful pink or blue by Rebel Walls Sweden.

Printed on smooth non woven wallpaper and easy to apply (paste the wall).

Available in any size you need - price Euro 45,00…

Rebelwalls SPACE MONKEY

Beautiful dark wallpaper mural SPACE MONKEY in beautiful colors by Rebel Walls Sweden. Great in the kids room as well.

Printed on smooth non woven wallpaper and easy to apply (paste the wall).

Available in any size you need -…

Rebelwalls THE ORCHARD

Beautiful floral wallpaper mural THE ORCHARD in stunning colors by Rebel Walls Sweden. Will make you happy every day!

Printed on smooth non woven wallpaper and easy to apply (paste the wall).

Available in any size you need -…

Rebelwalls EDEN NIGHTFALL

Beautiful floral wallpaper mural EDEN NIGHTFALL in stunning colors by Rebel Walls Sweden. Will make you happy every day!

Printed on smooth non woven wallpaper and easy to apply (paste the wall).

Available in any size you need -…

Rebelwalls SEVEN SEAS

Beautiful wallpaper mural SEVEN SEAS by Rebel Walls Sweden. Will make you happy every day!

Printed on smooth non woven wallpaper and easy to apply (paste the wall).

Available in any size you need - price Euro 45,00 per m2. Glue…

Rebelwalls CUBA JUNGLE

Beautiful wallpaper mural CUBA JUNGLE by Rebel Walls Sweden. Will make you happy every day!

Printed on smooth non woven wallpaper and easy to apply (paste the wall).

Available in any size you need - price Euro 45,00 per m2. Glue…

Rebelwalls THE SWEDISH FOREST

Real beautiful wallpaper mural THE SWEDISH FOREST with owls by Rebel Walls Sweden.

Printed on smooth non woven wallpaper and easy to apply (paste the wall).

Available in any size you need - price Euro 45,00 per m2. Glue…

Rebelwalls SECRET GARDEN lush

Lovely summer forest wallpaper mural SECRET GARDEN lush by Rebel Walls Sweden.

Printed on smooth non woven wallpaper and easy to apply (paste the wall).

Available in any size you need - price Euro 45,00 per m2. Glue included.…

Rebelwalls EDEN (2 colors)

Lovely abstract landscape drawing as wallpaper mural EDEN by Rebel Walls Sweden. Available in two colors.

Printed on smooth non woven wallpaper and easy to apply (paste the wall).

Available in any size you need - price Euro…

Rebelwalls MIRAGE

Wonderful vintage drawing as wallpaper mural MIRAGE by Rebel Walls Sweden.

Printed on smooth non woven wallpaper and easy to apply (paste the wall).

Available in any size you need - price Euro 45,00 per m2. Glue included.…

Rebelwalls BEETLE VALLEY

Wonderful enlarged leaves in this lovely wallpaper mural BEETLE VALLEY by Rebel Walls Sweden.

Printed on smooth non woven wallpaper and easy to apply (paste the wall).

Available in any size you need - price Euro 45,00 per m2.…

Rebelwalls SECRET GARDEN

Lovely vintage look wallpaper mural SECRET GARDEN in black and white by Rebel Walls Sweden.

Printed on smooth non woven wallpaper and easy to apply (paste the wall).

Available in any size you need - price Euro 45,00 per m2. Glue…

Rebelwalls CACTUS GARDEN

Lovely vintage look wallpaper mural CACTUS GARDEN in black and white by Rebel Walls Sweden.

Printed on smooth non woven wallpaper and easy to apply (paste the wall).

Available in any size you need - price Euro 45,00 per m2. Glue…

Rebelwalls BLOOMING

Lovely vintage look wallpaper mural with beautiful flowers BLOOMING by Rebel Walls Sweden.

Printed on smooth non woven wallpaper and easy to apply (paste the wall).

Available in any size you need - price Euro 45,00 per m2. Glue…

Rebelwalls FRENCH PANELS

Lovely vintage look wallpaper mural with faded view FRENCH PANELS by Rebel Walls Sweden. Available in two colors.

Printed on smooth non woven wallpaper and easy to apply (paste the wall).

Available in any size you need - price…

Rebelwalls STUCCO GLORIA (3 colors)

Classic yet super modern wallpaper mural STUCCO GLORIA by Swedish based REBEL WALLS wallcoverings. Available in 3 lovely colors.

Printed on smooth non woven wallpaper and easy to apply (paste the wall).

Available in any size you…

Rebelwalls JUNGLE LAND color

Pretty cool vintage look this beautiful wallpaper mural JUNGLE LAND color by Rebel Walls Sweden.

Printed on smooth non woven wallpaper and easy to apply (paste the wall).

Available in any size you need - price Euro 45,00 per m2.…

Rebelwalls BROOKLYN WALL

The exterior of this building is just breathtaking. A perfect piece for the industrial style home that longs for another unique addition. Place it on your wall and feel the sophisticated vibes of the Big Apple. Wallpaper Brooklyn…

Rebelwalls PORCELAIN (2colors)

Grandmother's teacups worn by time in a magnified and elegant wallpaper design. The soft pins or blue, combined with those natural cracks in the surface, wil add a felling of comfort and elegance to any room of your choice with…

Rebelwalls MORNING HAZE

Breathe in the clear morning air from the dexy fields of this wondurful landscape. this scenery with blue and pink pastels will make you feel fresh and free. A stunning wall mural design to enhance your room setting with this…

Rebelwalls METAL GRADIENT

At work one is often torn between extremes: highs and lows, busy and bored, Mondays and Fridays. This design adapts to the changes, being both warm thans to the petrol blue and cold because of the metal the same time with this…

Rebelwalls DECORATED BRICK (2 colors)

A classic red or white brick wall, but with an artsy twist. The painted pattern on the bricks adds just the right amount of fanciness without being too overwhelming - a fabulous addition to any home character. Beautiful wallpaper…

Rebelwalls CABIN

Was that a deer just passing by? Are there some mushrooms growing on the forest floor? Look closely through your owm cabin windows to see the forest life with this intriguing photo wall mura CABIN by Rebelwalls Sweden.

Printed on…

Rebelwalls MARBLE ART

Classic, luxurios and irregular. This marble wall mural will add glamor to any room and make your furnishings pop with this wall paper MARBLE ART by Rebel Walls Sweden.

Printed on smooth non woven wallpaper and easy to apply…

Rebelwalls MORNING FOG

Lovely wallpaper mural with faded view MORNING FOG by Rebel Walls Sweden.

Printed on smooth non woven wallpaper and easy to apply (paste the wall).

Available in any size you need - price Euro 45,00 per m2. Glue included. Printed…

Concrete New York

Pretty cool New York view! Beautiful wallpaper mural CONCRETE NEW YORK by Rebel Walls Sweden.

Printed on smooth non woven wallpaper and easy to apply (paste the wall).

Available in any size you need - price Euro 45,00 per m2.…

The Enchanted Forest

This design brings to mind secrets and shadows, and is inspired by an enchanted forest where magical creatures tread softly upon the fern beds. This sideways repeatable design can be used throughout a room to create a really…

London Houses

In North West London, you'll find Notting Hill with its adorable town houses. Here you see our take on their timeless architecture – created with 2D drawings, arranged and photographed in 3D.

Lovely wallpaper mural for the kids…

Raku Crackle (2 colors)

This Raku Cralke by Rebelwalls covered with the dynamic lining of natural cracks that are elegant in their simplicity, will give the room an intriguing organic dimension.

Printed on smooth non woven wallpaper and easy to apply…

Bali Boards

In this design standing whitewashed wooden boards have been worn by the climate of the tropics, creating an authentic beauty, wallpaper Bali Boards by Rebelwalls.

Printed on smooth non woven wallpaper and easy to apply (paste the…

Birds of Paradise

Hummingbirds are the gems of the tropical forest, exceeding each other in splendor. Birds of Paradise by RebelWalls from Sweden.

Printed on smooth non woven wallpaper and easy to apply (paste the wall).

Available in any size you…

Secret Garden

A delicate hand-drawn pattern of a tropical jungle superimposed on the surface of standing whitewashed wooden boards, scaled to fit, Secret Garden by RebelWalls from Sweden.

Printed on smooth non woven wallpaper and easy to apply…

Swaying Reed

Beautiful nature surrounding every day in this stunning wallpaper mural, scaled to fit, Swaying Reed by RebelWalls from Sweden.

Printed on smooth non woven wallpaper and easy to apply (paste the wall).

Available in any size you…

Peacock Plumage

Beautiful warm dark colors in this stunning wallpaper mural, scaled to fit, PEACOCK PLUMAGE by RebelWalls from Sweden.

Printed on smooth non woven wallpaper and easy to apply (paste the wall).

Available in any size you need -…

West Coast

Weathered wood in herringbone pattern. Stunning wallpaper mural scaled to fit WEST COAST by Scandinavian Rebel Walls.

Printed on smooth non woven wallpaper and easy to apply (paste the wall).

Available in any size you need -…

Sea Reflections (2 colors)

The rays of the sun create various and constantly changing reflections in the ocean. Beautiful wallpaper mural Sea Reflections.

Printed on smooth non woven wallpaper and easy to apply (paste the wall).

Available in any size you…

RebelWalls MIXED TAPE

A must have wallpaper mural for every music lover! Stunning wallpaper MIXED TAPE by RebelWalls.

Printed on smooth non woven wallpaper and easy to apply (paste the wall).

Available in any size you need for Euro 45,00 per m2. Glue…

The Rabbit's Playground

This detailed woodland scene is home to many good friends, playing comfortably and planning their next great adventure. The sideways repeatable design can be used for more than one wall, to create a woodland oasis wherever you…