Wrap the Wall
Wrap the Wall is revolutionairy new! Wallpaper your exterior wall, garage door, garden wall for a complete new look. Below you find just a few examples, of course we can also print your own pictures or other ideas.
This wrap is very easy to apply yourself. We supply inclusive roller and heater and a piece to practice. It can be applied on any clean and dry brick wall or plaster or garage door.
Price Euro 150,00 per m2, delivery time around 2 weeks.
Please mail for more information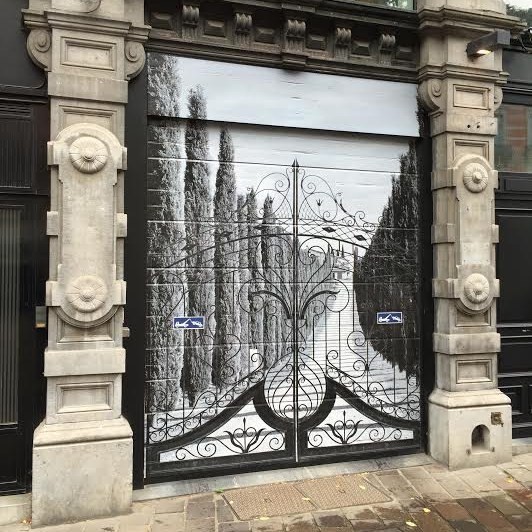 PALM LANDSCAPE

Upgrade your exterior wall or garden wall with this beautiful Wrap the Wall mural PALM LANDSCAPE for your instant holiday feel!

Made on demand and scaled to fit the size you need. Please mail us the required dimension for a free…

LAKE BALCONY

Upgrade your exterior wall or garden wall with this beautiful Wrap the Wall mural LAKE BALCONY!

Made on demand and scaled to fit the size you need. Please mail us the required dimension for a free of charge simulation.

This wall…

SUMMER FLOWERS (3 colors)

Upgrade your exterior wall or garden wall with this beautiful Wrap the Wall mural SUMMER FLOWERS for a cosy feel! Available in three colors.

Made on demand and scaled to fit the size you need. Please mail us the required…

FRESCO ARCHES

Upgrade your exterior wall or garden wall with this beautiful Wrap the Wall mural FRESCO ARCHES for a cosy feel!

Made on demand and scaled to fit the size you need. Please mail us the required dimension for a free of charge…

RIVER black & white

Upgrade your exterior wall or garden wall with this beautiful Wrap the Wall mural SUMMER GREEN!

Made on demand and scaled to fit the size you need. Please mail us the required dimension for a free of charge simulation.

This wall…

SUMMER GREEN

Upgrade your exterior wall or garden wall with this beautiful Wrap the Wall mural SUMMER GREEN!

Made on demand and scaled to fit the size you need. Please mail us the required dimension for a free of charge simulation.

This wall…

SUNFLOWERS

Upgrade your exterior wall or garden wall with this beautiful Wrap the Wall mural SUNFLOWERS in lovely bright colors.

Made on demand and scaled to fit the size you need. Please mail us the required dimension for a free of charge…

DREAMY GARDEN

Upgrade your exterior wall or garden wall with this beautiful Wrap the Wall mural DREAMY GARDEN in soft pink shades.

Made on demand and scaled to fit the size you need. Please mail us the required dimension for a free of charge…

HIDDEN TIGER

Upgrade your exterior wall or garden wall with this beautiful Wrap the Wall mural HIDDEN TIGER.

Made on demand and scaled to fit the size you need. Please mail us the required dimension for a free of charge simulation.

This wall…

FRESCO STONE

Upgrade your exterior wall or garden wall with this beautiful Wrap the Wall mural FRESCO STONE.

Made on demand and scaled to fit the size you need. Please mail us the required dimension for a free of charge simulation.

This wall…

SMALL ORNAMENT

Upgrade your exterior wall or garden wall with this beautiful Wrap the Wall mural SMALL ORNAMENT.

Made on demand and scaled to fit the size you need. Please mail us the required dimension for a free of charge simulation.

This…

PINK FLOWER

Upgrade your exterior wall or garden wall with this beautiful Wrap the Wall mural PINK FLOWER.

Made on demand and scaled to fit the size you need. Please mail us the required dimension for a free of charge simulation.

This wall…

BIRDS NEST

Upgrade your exterior wall or garden wall with this beautiful Wrap the Wall mural BIRDS NEST.

Made on demand and scaled to fit the size you need. Please mail us the required dimension for a free of charge simulation.

This wall…

WOOD TILES by Foxx

Upgrade your exterior wall or garden wall with this beautiful Wrap the Wall mural WOOD TILES by Foxx. This design works best on a smooth plastered wall.

Made on demand and scaled to fit the size you need. Please mail us the…

BIRDS IN THE FIELD

Upgrade your exterior wall or garden wall with this beautiful Wrap the Wall mural BIRDS IN THE FIELD for your every day summer feel!

Made on demand and scaled to fit the size you need. Please mail us the required dimension for a…

FRESCO GARDEN (2 colors)

Upgrade your exterior wall or garden wall with this beautiful Wrap the Wall mural FRESCO GARDEN. Available in two versions; light or dark.

Made on demand and scaled to fit the size you need. Please mail us the required dimension…

ALOHA

Upgrade your exterior wall or garden wall with this beautiful Wrap the Wall mural ALOHA for your every day summer feel!

Made on demand and scaled to fit the size you need. Please mail us the required dimension for a free of…

CACTI LAND

Upgrade your exterior wall or garden wall with this beautiful Wrap the Wall mural CACTI LAND!

Made on demand and scaled to fit the size you need. Please mail us the required dimension for a free of charge simulation.

This wall…

GREEN WALL

Upgrade your exterior wall or garden wall with this beautiful Wrap the Wall mural GREEN WALL!

Made on demand and scaled to fit the size you need. Please mail us the required dimension for a free of charge simulation.

This wall…

TROPICAL VIEW

Upgrade your exterior wall or garden wall with this beautiful Wrap the Wall mural TROPICAL VIEW!

Made on demand and scaled to fit the size you need. Please mail us the required dimension for a free of charge simulation.

This…

PINK GRASS

Upgrade your exterior wall or garden wall with this beautiful Wrap the Wall mural PINK GRASS!

Made on demand and scaled to fit the size you need. Please mail us the required dimension for a free of charge simulation.

This wall…

STAR

Upgrade your exterior wall or garden wall with this beautiful Wrap the Wall mural STAR with mosaic tiles.

Made on demand and scaled to fit the size you need. Please mail us the required dimension for a free of charge…

Bananas

Upgrade your exterior wall or garden wall with this beautiful Wrap the Wall mural BANANAS.

Made on demand and scaled to fit the size you need. Please mail us the required dimension for a free of charge simulation.

This wall wrap…

Green Wall plain

Upgrade your exterior wall or garden wall with this beautiful Wrap the Wall mural GREEN WALL plain. You would not see the difference to real leaves!

Made on demand and scaled to fit the size you need. Please mail us the required…

Pink Roses

Upgrade your exterior wall or garden wall with this lovely Wrap the Wall mural PINK ROSES to add some color!

Made on demand and scaled to fit the size you need. Please mail us the required dimension for a free of charge…

Monument Wall

Make your old ugly garden or house wall even older with our mural MONUMENT WALL with windows!

Made on demand and scaled to fit the size you need. Please mail us the required dimension for a free of charge simulation.

This wall…

Dragonfly

Bet you everyone will want to feel this mural DRAGONFLY. Impressive exterior wallcovering by Wrap the Wall!

Made on demand and scaled to fit the size you need. Please mail us the required dimension for a free of charge…

Concrete Flowers

Bet you everyone will want to feel these 3d Concrete Flowers. Impressive exterior wallcovering by Wrap the Wall!

Made on demand and scaled to fit the size you need. Please mail us the required dimension for a free of charge…

Koi

Bright summer colours with this Wrap the Wall KOI mural.

Made on demand and scaled to fit the size you need. Please mail us the required dimension for a free of charge simulation.

This wall wrap can be applied on any outdoor…

Oriental Stuc

Create a very luxerious look with our Wrap the Wall Oriental Stuc!

Made on demand and scaled to fit the size you need. Please mail us the required dimension for a free of charge simulation.

This wall wrap can be applied on any…

Sea View

Turn your blind wall into a new stunning view!

Made on demand and scaled to fit the size you need. Please mail us the required dimension for a free of charge simulation.

This wall wrap can be applied on any outdoor brick or…

Stucco Maroc

Beautiful Oriental stuc wall for a little every-day-summer-feel.

Made on demand and scaled to fit the size you need. Please mail us the required dimension for a free of charge simulation.

This wall wrap can be applied on any…

Watercolor Flowers

Beautiful watercolour summerflower, even in wintertime!

Made on demand and scaled to fit the size you need. Please mail us the required dimension for a free of charge simulation.

This wall wrap can be applied on any outdoor…

Sail Boats

Faded sail boats for a relaxing garden view, pretty cool!

Made on demand and scaled to fit the size you need. Please mail us the required dimension for a free of charge simulation.

This wall wrap can be applied on any outdoor…

Beach View

Who does not want a beach in your back yard?

Made on demand and scaled to fit the size you need. Please mail us the required dimension for a free of charge simulation.

This wall wrap can be applied on any outdoor brick or…

Lake View

Having diner with a stunning lake view, way better than a simple wall!

Made on demand and scaled to fit the size you need. Please mail us the required dimension for a free of charge simulation.

This wall wrap can be applied on…

Brown Birds

Beautiful vintage bird drawing in natural colours.

Made on demand and scaled to fit the size you need. Please mail us the required dimension for a free of charge simulation.

This wall wrap can be applied on any outdoor brick or…

Old Wall

Turn your dull new wall into a stunning old one!

Made on demand and scaled to fit the size you need. Please mail us the required dimension for a free of charge simulation.

This wall wrap can be applied on any outdoor brick or…

Rooftiles

Beautiful roof tiles with part of a tree.

Made on demand and scaled to fit the size you need. Please mail us the required dimension for a free of charge simulation.

This wall wrap can be applied on any outdoor brick or plaster…

Birds

Nice sepia coloured birds on a plaster background.

Made on demand and scaled to fit the size you need. Please mail us the required dimension for a free of charge simulation.

This wall wrap can be applied on any outdoor brick or…

Geometric Mandala

Great geometric pattern in soft blueish green, very nice.

Made on demand and scaled to fit the size you need. Please mail us the required dimension for a free of charge simulation.

This wall wrap can be applied on any outdoor…

Windmill

Upgade your exterior wall with this beautiful windmill.

Made on demand and scaled to fit the size you need. Please mail us the required dimension for a free of charge simulation.

This wall wrap can be applied on any outdoor…

Summer Forest

Quite a change for your outdoor wall or garage door!

Made on demand and scaled to fit the size you need. Please mail us the required dimension for a free of charge simulation.

This wall wrap can be applied on any outdoor brick…

Blue Tile

Create a stunning 'tiled' wall with this beautiful mural Blue Tiles.

Made on demand and scaled to fit the size you need. Please mail us the required dimension for a free of charge simulation.

This wall wrap can be applied on any…

Milk Girl

The famous Milk Girl now available as your new view!

Made on demand and scaled to fit the size you need. Please mail us the required dimension for a free of charge simulation.

This wall wrap can be applied on any outdoor brick…

Concrete Ornament

Great ornament pattern on a concrete background.

Made on demand and scaled to fit the size you need. Please mail us the required dimension for a free of charge simulation.

This wall wrap can be applied on any outdoor brick or…