Wall & Deco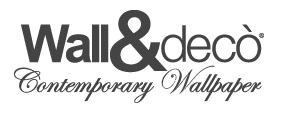 The summum in wallpaper. We would't even call it wallpaper, this is serious wall art!
Top quality vinyl wallpaper (just paste the wall) with unbelievable great prints. So if you want something different you have to look at our Wall and Deco collection.
This wallpaper comes in rolls of 47 cm. and is always made on demand on whatever size you need.
Just let us know what you require by mail and we will make you a free quotation and ask for a simulation. The price of this wonderful design wallpaper from Italy is Euro 110,00 per m2.
You will find a selection of the Wall & Deco collection, if you want to see them all please visit www.wallanddeco.com.
Delivery time around 4 weeks after receipt pre payment.