Interior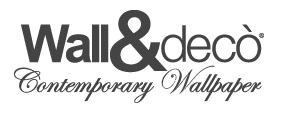 The best you can get with regards to wallpaper nowadays! This is not just a wall covering, this is art!
Topquality vinyl wallpaper with only the most wonderful designs. Very easy to apply.
All of these Wall and Deco wallpaper murals are made on demand on any size you require.Please send us an email for a free price quotation and visual (example by mail)
Delivery time around 4 weeks after approval visual and receipt pre payment.
This is a selection only, please find the entire collection of Wall & Deco HERE
Wall and Deco FAENNA

Stunning wallpaper mural FAENNA designed by Christian Benini for Wall and Deco Italy. Collection 2018. Available in 2 colors.

This non woven wallpaper will be made on demand in the size you need and comes in roles of 47 cm.…

Wall and Deco LUCIE

Stunning wallpaper mural LUCIE designed by Gio Pagani for Wall and Deco Italy. Collection 2018. Available in 3 colors.

This non woven wallpaper will be made on demand in the size you need and comes in roles of 47 cm. width.…

Wall and Deco CARDO MAXIMUS

Beautiful wallpaper mural Cardo Maximus designed by Draga Obradovic & Aurel K. Basedow for Wall and Deco Italy. Collection 2018. Available in 2 colors.

This non woven wallpaper will be made on demand in the size you need and…

Wall and Deco PULVIS

Beautiful wallpaper mural PULVIS designed by Ines Porrino for Wall and Deco Italy. Collection 2018. Available in 2 colors.

This non woven wallpaper will be made on demand in the size you need and comes in roles of 47 cm. width.…

Wall and Deco NOMADE

Stunning wallpaper mural NOMADE designed by Federico Pepe for Wall and Deco Italy. Collection 2018. Available in 2 colors.

This non woven wallpaper will be made on demand in the size you need and comes in roles of 47 cm. width.…

Wall and Deco REVERSO

Stunning wallpaper mural REVERSO designed by Talva Design for Wall and Deco Italy. Collection 2018. Available in 2 colors.

This non woven wallpaper will be made on demand in the size you need and comes in roles of 47 cm. width.…

Wall and Deco ALBA SALIX

Stunning wallpaper mural ALBA SALIX designed by Francesca Zoboli for Wall and Deco Italy. Collection 2018. Available in 2 colors.

This non woven wallpaper will be made on demand in the size you need and comes in roles of 47 cm.…

Wall and Deco ENERGY

Stunning wallpaper mural ENERGY designed by Christian Benini for Wall and Deco Italy. Collection 2018. Available in 2 colors.

This non woven wallpaper will be made on demand in the size you need and comes in roles of 47 cm.…

Wall and Deco BESIARIVM

Stunning wallpaper mural BESTIARIVM designed by Gio Pagani for Wall and Deco Italy. Collection 2018. Available in 3 colors/designs.

This non woven wallpaper will be made on demand in the size you need and comes in roles of 47 cm.…

Wall and Deco NOVECENTO

Stunning wallpaper mural NOVECENTO designed by Lorenzo De Grandis for Wall and Deco Italy. Collection 2018. Available in 2 colors.

This non woven wallpaper will be made on demand in the size you need and comes in roles of 47 cm.…

Wall and Deco IN SIGHT

Stunning wallpaper mural IN SIGHT designed by Alessandro Gottardo (aka Shout) for Wall and Deco Italy. Collection 2018. Available in 2 colors.

This non woven wallpaper will be made on demand in the size you need and comes in…

Wall and Deco KONA

Beautiful wallpaper mural KONA designed by Serena Confalonieri for Wall and Deco Italy. Collection 2018. Available in 2 colors.

This non woven wallpaper will be made on demand in the size you need and comes in roles of 47 cm.…

Wall and Deco A VIVRE

Beautiful wallpaper mural A VIVRE designed by Antonella Guidi for Wall and Deco Italy. Collection 2018. Available in 2 colors.

This non woven wallpaper will be made on demand in the size you need and comes in roles of 47 cm.…

Wall and Deco LESLEY

Beautiful wallpaper mural LESLEY designed by Bertero Projects for Wall and Deco Italy. Collection 2018. Available in 3 colors.

This non woven wallpaper will be made on demand in the size you need and comes in roles of 47 cm.…

Wall and Deco FAIR PLAY

Beautiful wallpaper mural FAIR PLAY designed by Serena Confalonieri for Wall and Deco Italy. Collection 2018. Available in 2 colors.

This non woven wallpaper will be made on demand in the size you need and comes in roles of 47…

Wall and Deco SIGNORIA

Beautiful wallpaper mural SIGNORIA designed by Christian Benini for Wall and Deco Italy. Available in 2 colors.

This non woven wallpaper will be made on demand in the size you need and comes in roles of 47 cm. width. Special glue…

Wall and Deco TYPOLOGY

Beautiful wallpaper mural TYPLOGY by Christian Benini for Wall and Deco.

This non woven wallpaper will be made on demand in the size you need and comes in roles of 47 cm. Special glue included.

Price is €115,00 per m2. Want a…

Wall and Deco SUMI

New 2017 collection: stunning faded mural SUMI in marble look designed by Francesca Zoboli for Wall and Deco Italy.

This high quality non woven wallpaper will be made on demand in the size you need and comes in roles of 47 cm.…

Wall and Deco OUVERTURE

New 2017 collection: stunning faded mural OUVERTURE designed by Lorenzo de Grandis for Wall and Deco Italy. Available in 3 shades.

This high quality non woven design wallpaper will be made on demand in the size you need and comes…

Wall and Deco HELLENIC

New 2017 collection: ancient meets contemporary in this beautiful mural HELLENIC designed by RAW for Wall and Deco Italy. Available in 2 colors.

This high quality non woven design wallpaper will be made on demand in the size you…

Wall and Deco SPECTRUM

Stunning wallpaper mural SPECTRUM designed by Giovanni Pesce for Wall and Deco Italy. Collection 2017. Available in two colors.

This high quality non woven wallpaper will be made on demand in the size you need and comes in roles…

Wall and Deco POST

Stunning wallpaper mural POST designed by Giovanni Pesce for Wall and Deco Italy. Collection 2017. Available in red and blue.

This high quality non woven wallpaper will be made on demand in the size you need and comes in roles of…

Wall and Deco PILLS

Colorful wallpaper mural PILLS designed by 4P1B for Wall and Deco Italy. Available in 2 colors.

This non woven wallpaper will be made on demand in the size you need and comes in numbered roles of 47 cm. width. Special glue…

Wall and Deco HOUSE IS MY DRESS

New 2017 collection: stunning wallpaper mural HOUSE IS MY DRESS designed by Eva Germani for Wall and Deco Italy. Available in 2 colors.

This high quality non woven wallpaper will be made on demand in the size you need and comes…

Wall and Deco TREILLAGE

Stunning new view with this wonderful wallpaper mural TREILLAGE designed by Raw for Wall and Deco Italy.

This non woven wallpaper will be made on demand in the size you need and comes in roles of 47 cm. width. Price Euro 115,00…

Wall and Deco EAT TO BEAT

2017 collection: sunny yellow wallpaper mural EAT TO BEAT designed by Gio Pagani for Wall and Deco Italy.

This non woven wallpaper will be made on demand in the size you need and comes in roles of 47 cm. width. Price Euro 115,00…

Wall and Deco CHERRY BOMB

2017 collection: beautiful retro wallpaper mural CHERRY BOMB designed by Gio Pagani for Wall and Deco Italy.

This non woven wallpaper will be made on demand in the size you need and comes in roles of 47 cm. width. Price Euro…

Wall and Deco ATOMIC

New 2017 collection: beautiful retro wallpaper mural ATOMIC designed by Gio Pagani for Wall and Deco Italy. Available in 3 colors.

This non woven wallpaper will be made on demand in the size you need and comes in roles of 47 cm.…

Wall and Deco PAVOT

Beautiful floral wallpaper mural PAVOT designed by Eva Germani for Wall and Deco Italy. Available in 2 colors. Collection 2017.

This non woven wallpaper will be made on demand in the size you need and comes in roles of 47 cm.…

Wall and Deco PHYTOGENESIS

New 2017 collection: stunning botanical wallcovering PHYTOGENESIS designed by Silvia Stella Osella for Wall and Deco Italy. Available in 2 colors.

This non woven wallpaper will be made on demand in the size you need and comes in…

Wall and Deco MILKY WAY

New 2017 collection: beautiful wallpaper mural MILKY WAY designed by Eva Germani for Wall and Deco Italy. Available in 2 colors.

This non woven wallpaper will be made on demand in the size you need and comes in roles of 47 cm.…

Wall and Deco LUNA PLENE

Stunning wallpaper LUNA PLENE designed by Lorenzo de Grandis for Wall and Deco Italy. Collection 2017. Available in 3 shades.

This non woven wallpaper will be made on demand in the size you need and comes in roles of 47 cm.…

Wall and Deco LOST PARADISE

Stunning wallpaper LOST PARADISE designed by Lorenzo de Grandis for Wall and Deco Italy. Collection 2017. Available in 2 shades.

This non woven wallpaper will be made on demand in the size you need and comes in roles of 47 cm.…

Wall and Deco LA ISLA BONITA

Beautiful wallpaper mural LA ISLA BONITA designed by Giovanni Pesce for Wall and Deco Italy. Collection 2017.

This non woven wallpaper will be made on demand in the size you need and comes in roles of 47 cm. width. Price Euro…

Wall and Deco HERODIO

Beautiful wallpaper mural HERODIO designed by Tomasso Guerra for Wall and Deco Italy. Collection 2017.

This non woven wallpaper will be made on demand in the size you need and comes in roles of 47 cm. width. Price Euro 115,00 per…

Wall and Deco GOOD LUCK

Beautiful wallpaper mural GOOD LUCK designed by Christian Benini & Andrea Merendi for Wall and Deco Italy. Collection 2017. Available in 2 colors.

This non woven wallpaper will be made on demand in the size you need and comes in…

Wall and Deco GOLDEN HOOK

Beautiful wallpaper mural GOLDEN HOOK designed by Christian Benini for Wall and Deco Italy. Collection 2017. Available in 2 colors.

This non woven wallpaper will be made on demand in the size you need and comes in roles of 47 cm.…

Wall and Deco GAELICO

Stunning wallcovering GAELICO designed by Christian Benini for Wall and Deco Italy. Collection 2017. Available in 2 colors.

This non woven wallpaper will be made on demand in the size you need and comes in roles of 47 cm. width.…

Wall and Deco COURTSHIP

Stunning wallcovering COURTSHIP designed by The Exclusive Otter for Wall and Deco Italy. Collection 2017. Available in 3 colors.

This non woven wallpaper will be made on demand in the size you need and comes in roles of 47 cm.…

Wall and Deco ECHOS

Stunning wallcovering ECHOS designed by The Exclusive Otter for Wall and Deco Italy. Collection 2017. Available in 3 colors.

This non woven wallpaper will be made on demand in the size you need and comes in roles of 47 cm. width.…

Wall and Deco CIRCUS

Stunning wallcovering CIRCUS designed by Eva Gervani for Wall and Deco Italy. Collection 2017. Available in 2 colors.

This non woven wallpaper will be made on demand in the size you need and comes in roles of 47 cm. width. Price…

Wall and Deco CHILL OUT

Stunning wallpaper CHILL OUT designed by Draga Obradovic and Aurel K. Basedow for Wall and Deco Italy. Collection 2017. Available in 2 colors.

This non woven wallpaper will be made on demand in the size you need and comes in…

Wall and Deco CHEETAH

Stunning wallcovering CHEETAH designed by Talva Design for Wall and Deco Italy. Collection 2017. Available in 3 colors.

This non woven wallpaper will be made on demand in the size you need and comes in roles of 47 cm. width.…

Wall and Deco BOIS DHIVER

Stunning wallpaper BOIS DHIVER designed by Lorenzo de Grandis for Wall and Deco Italy. Collection 2017. Available in 2 colors.

This non woven wallpaper will be made on demand in the size you need and comes in roles of 47 cm.…

Wall and Deco FAMILY AFFAIR

Beautiful impressive wallpaper FAMILY AFFAIR designed by RAW for Wall and Deco Italy. Collection 2017. Available in 2 designs.

This high quality non woven wallpaper will be made on demand in the size you need and comes in roles…

Wall and Deco ANCETRE

Beautiful impressive wallpaper ANCETRE designed by Giovanni Pesce for Wall and Deco Italy. Collection 2017. Available in 2 colors.

This high quality non woven wallpaper will be made on demand in the size you need and comes in…

Wall and Deco BOLSHOI

Beautiful impressive wallpaper BOLSHOI designed by ANTONELLA GUIDI for Wall and Deco Italy. Collection 2017. Available in 2 colors.

This high quality non woven wallpaper will be made on demand in the size you need and comes in…

Wall and Deco AENIGMATICA

Stunning wallpaper AENIGMATICA designed by Draga Obradovic and Aurel K. Basedow for Wall and Deco Italy. Collection 2017. Available in 2 colors.

This non woven wallpaper will be made on demand in the size you need and comes in…

Wall and Deco STORYBOARD

Wonderful mural STORY BOARD by Gio Pagani for Wall & Deco Italy. Available in two stunning versions.

This vinyl wallpaper will be made on demand in the size you need and comes in roles of 47 cm. width. Price Euro 115,00 per m2…

Wall and Deco SMELL LIKE...

Wonderful botanical mural SMELL LIKE... designed by Wladimiro Bendandi for Wall and Deco Italy. Available in two beautiful warm colors.

This non woven wallpaper will be made on demand in the size you need and comes in roles of 47…

Wall and Deco MY BODY

Stunning exclusive wallpaper mural MY BODY designed by Gio Pagani for Wall and Deco Italy. Available in 2 designs.

This non woven wallpaper will be made on demand in the size you need and comes in roles of 47 cm. width. Price…

Wall and Deco TONER

Stunning wallpaper TONER designed by Francesca Zobili for Wall and Deco Italy. Available in two beautiful warm colors.

This non woven wallpaper will be made on demand in the size you need and comes in roles of 47 cm. width. Price…

Wall and Deco TRUE LIES

Beautiful wallpaper mural TRUE LIES designed by Raw for Wall and Deco Italy! Available in 2 designs (or both).

This non woven wallpaper will be made on demand in the size you need and comes in roles of 47 cm. width. Price Euro…

Wall and Deco HOME SWEET HOME

Great industrial wallpaper mural HOME SWEET HOME designed by Christian Benini for Wall and Deco Italy. Available in 2 colors.

This non woven wallpaper will be made on demand in the size you need and comes in roles of 47 cm.…

Wall and Deco CLOSE TO ME

Stunning vintage wallpaper mural designed by Marika Baldoni for Wall and Deco Italy. Available in 2 colors.

This non woven wallpaper will be made on demand in the size you need and comes in roles of 47 cm. width. Price Euro…

Wall and Deco GOUACHE

Stunning mural by Ines Porrino for Wall & Deco. Available in two colors.

This high quality wallpaper will be made on demand in the size you need and comes in roles of 47 cm. width. Price Euro 115,00 per m2 (entire roll of 47 will…

Wall and Deco ORCHIDALIA

New 2016 collection: beautiful wallpaper ORCHIDALIA designed by Draga Obradovic and Aurel K. Basedow for Wall and Deco Italy. Available in 2 colors.

This non woven wallpaper will be made on demand in the size you need and comes…

Wall and Deco ALPENJAGER

Beautiful wallpaper mural ALPENJAGER designed by Raw for Wall and Deco Italy! Available in 2 colors.

This non woven wallpaper will be made on demand in the size you need and comes in roles of 47 cm. width. Price Euro 115,00 per…

Wall and Deco SEPARE

Beautiful wallpaper mural SEPARE designed by Talva Design for Wall and Deco Italy. You can almost feel the relief! Available in 2 colors.

This non woven wallpaper will be made on demand in the size you need and comes in roles of…

Wall and Deco RENE

Beautiful wallpaper mural RENE designed by Christian Benini for Wall and Deco Italy. Available in 2 designs.

This non woven wallpaper will be made on demand in the size you need and comes in roles of 47 cm. width. Price Euro…

Wall and Deco LIBELLULA

New 2016 collection: absolutely stunning wallpaper LIBELLULA in soft shades designed by Lorenzo de Grandis for Wall and Deco Italy. Available in 2 colors.

This non woven wallpaper will be made on demand in the size you need and…

Wall and Deco NÄGA

Beautiful wallpaper NÄGA designed by Draga Obradovic and Aurel K. Basedow for Wall and Deco Italy. Available in 3 colours. Collection 2015.

This non woven wallpaper will be made on demand in the size you need and comes in roles…

Wall and Deco BRASILIA

New 2016 collection: absolutely stunning wallpaper BRASLIA with large jungle leaves designed by Lorenzo de Grandis for Wall and Deco Italy. Available in 2 colors.

This non woven wallpaper will be made on demand in the size you…

Wall and Deco LIGHT SHADOW

Stunning wall decoration designed by Lorenzo de Grandis for Wall & Deco. Available in two colours.

This non woven wallpaper will be made on demand in the size you need and comes in roles of 47 cm. width. Price Euro 115,00 per m2…

Wall and Deco DARE ME

Beautiful wallpaper mural DARE ME with play cards designed by RAW for Wall and Deco Italy. Available in 2 colors.

This non woven wallpaper will be made on demand in the size you need and comes in roles of 47 cm. width. Price Euro…

Wall and Deco KISS ME

Beautiful wallpaper mural KISS ME designed by Christian Benini for Wall and Deco Italy. Available in 2 colors.

This non woven wallpaper will be made on demand in the size you need and comes in roles of 47 cm. width. Price Euro…

Wall and Deco DELAVE

New 2016 collection: beautiful wallpaper DELAVE designed by Draga Obradovic and Aurel K. Basedow for Wall and Deco Italy. Available in 2 colors.

This non woven wallpaper will be made on demand in the size you need and comes in…

Wall and Deco WET HEART

Lovely grunge mural WET HEART designed by Christian Benini for Wall and Deco Italy. Available in 2 colors.

This non woven wallpaper will be made on demand in the size you need and comes in roles of 47 cm. width. Price Euro 115,00…

Wall and Deco ANOTHER CANVAS

New 2016 collection: beautiful wallpaper ANOTHER CANVAS designed by Draga Obradovic and Aurel K. Basedow for Wall and Deco Italy. Available in 2 colors.

This non woven wallpaper will be made on demand in the size you need and…

Wall and Deco RAMAGE

2016 collection: stunning wallpaper mural RAMAGE designed by Antonella Guidi for Wall and Deco Italy. Available in 3 colors.

This non woven wallpaper will be made on demand in the size you need and comes in roles of 47 cm. width.…

Wall and Deco REBUS

Stunning wallpaper REBUS designed by Francesca Zobili for Wall and Deco Italy. Available in two colors.

This non woven wallpaper will be made on demand in the size you need and comes in roles of 47 cm. width. Price Euro 115,00…

Wall and Deco PENCIL BIRDS

Beautiful wallpaper mural PENCIL BIRDS designed by Talva Design for Wall and Deco Italy. Available in 2 colors.

This non woven wallpaper will be made on demand in the size you need and comes in roles of 47 cm. width. Price Euro…

Wall and Deco RAFALE

Beautiful wallpaper mural RAFALE designed by Elisa Vendramin for Wall and Deco Italy. Available in 2 colors.

This non woven wallpaper will be made on demand in the size you need and comes in roles of 47 cm. width. Price Euro…

Wall and Deco CHARLIE

New 2016 collection: stunning wallpaper mural CHARLIE designed by Alessandro Gottardo for Wall and Deco Italy. Available in 2 colors.

This non woven wallpaper will be made on demand in the size you need and comes in roles of 47…

Wall and Deco PAPER EDGE

New 2016 collection: stunning wallpaper mural PAPER EDGE designed by Giovanni Pesce for Wall and Deco Italy. Available in 2 color shades.

This non woven wallpaper will be made on demand in the size you need and comes in roles of…

Wall and Deco COLLAGE

New 2016 collection: stunning wallpaper mural COLLAGE designed by Antonella Guidi for Wall and Deco Italy. Available in 2 color shades.

This non woven wallpaper will be made on demand in the size you need and comes in roles of 47…

Wall and Deco EXOTIC DAMIER

Stunning wallpaper EXOTIC DAMIER designed by Raw for Wall and Deco Italy. Available in 2 colors. Collection 2016.

This non woven wallpaper will be made on demand in the size you need and comes in roles of 47 cm. width. Price Euro…

Wall and Deco NEWS PLANET

Stunning mural NEWS PLANET by Christian Benini for Wall & Deco.

This non woven wallpaper will be made on demand in the size you need and comes in roles of 47 cm. width. Price euro 115,00 per m2.

Want a free quotation and/or…

Wall and Deco ANTIQUA

New 2016 collection: stunning wallpaper mural ANTIQUA designed by Ctrlzak for Wall and Deco Italy. Available in 2 color shades.

This non woven wallpaper will be made on demand in the size you need and comes in roles of 47 cm.…

Wall and Deco LUVIENTO

New 2016 collection: beautiful wallpaper mural LUVIENTO designed by Giovanni Pesce for Wall and Deco Italy. Available in 3 colors.

This non woven wallpaper will be made on demand in the size you need and comes in roles of 47 cm.…

Wall and Deco NOUVEAU GEISHA

New 2016 collection: beautiful wallpaper mural NOUVEAU GEISHA designed by Ctrlzak for Wall and Deco Italy. Available in 2 color shades.

This non woven wallpaper will be made on demand in the size you need and comes in roles of 47…

Wall and Deco LA VIE MARINE

New 2016 collection: beautiful wallpaper mural LA VIE MARINE by Talva Design for Wall and Deco Italy. Available in 2 colors.

This non woven wallpaper will be made on demand in the size you need and comes in roles of 47 cm. width.…

Wall and Deco PEACOCK

New 2016 collection: wonderful wallpaper mural PEACOCK designed by 4P1B for Wall and Deco Italy. Available in 2 colors.

This non woven wallpaper will be made on demand in the size you need and comes in roles of 47 cm. width.…

Wall and Deco FLOAT ON

New 2016 collection: beautiful wallpaper mural FLOAT ON designed by Elusive Otter for Wall and Deco Italy. Available in 2 colors.

This non woven wallpaper will be made on demand in the size you need and comes in roles of 47 cm.…

Wall and Deco THE-GARDEN

New 2016 collection: absolutely stunning wallpaper THE-GARDEN designed by Lorenzo de Grandis for Wall and Deco Italy. Available in 2 colors.

This non woven wallpaper will be made on demand in the size you need and comes in roles…

Wall and Deco JASMINUM

New 2016 collection: beautiful wallpaper JASMINUM designed by Antonio Marras for Wall and Deco Italy. Available in 2 colors.

This non woven wallpaper will be made on demand in the size you need and comes in roles of 47 cm. width.…

Wall and Deco LOS ANGELES

New 2016 collection: stunning wallcovering LOS ANGELES designed by 4P1B for Wall and Deco Italy. Available in 2 colors.

This non woven wallpaper will be made on demand in the size you need and comes in roles of 47 cm. width.…

Wall and Deco ADAGIO

New 2016 collection: beautiful wallpaper ADAGIO designed by Draga Obradovic and Aurel K. Basedow for Wall and Deco Italy. Available in 2 colors.

This non woven wallpaper will be made on demand in the size you need and comes in…

Wall and Deco MATELASSE

New 2016 collection: beautiful wallpaper MATELASSE designed by Paolo Badesco Costantino Affuso for Wall and Deco Italy. Available in 2 colors.

This non woven wallpaper will be made on demand in the size you need and comes in…

Wall and Deco CLOUD BRUSH

New 2016 collection: beautiful wallpaper mural CLOUD BRUSH designed by Christian Benini for Wall and Deco Italy. Available in 2 colors.

This non woven wallpaper will be made on demand in the size you need and comes in roles of 47…

Wall and Deco PINK WIND

New 2016 collection: beautiful wallpaper mural PINK WIND designed by Eva Germani for Wall and Deco Italy. Available in 2 colors.

This non woven wallpaper will be made on demand in the size you need and comes in roles of 47 cm.…

Wall and Deco CHALKS

New 2016 collection: stunning colorful wallpaper mural CHALKS designed by Giovanni Pesce for Wall and Deco Italy. Available in 2 colors.

This non woven wallpaper will be made on demand in the size you need and comes in roles of…

Wall and Deco FLORIDITA

2016 collection: stunning colorful wallpaper mural FLORIDITA designed by María Gómez García for Wall and Deco Italy. Available in 2 colors.

This vinyl wallpaper will be made on demand in the size you need and comes in roles of…

Wall and Deco GREAT ESCAPE

New 2016 collection: beautiful wallpaper mural GREAT ESCAPE designed by Elusive Otter for Wall and Deco Italy. Available in 2 colors.

This non woven wallpaper will be made on demand in the size you need and comes in roles of 47…

Wall and Deco VIA COL VENTO

New 2016 collection: beautiful wallpaper mural VIA COL VENTO designed by Christian Benini for Wall and Deco Italy. Available in 2 colors.

This non woven wallpaper will be made on demand in the size you need and comes in roles of…

Wall and Deco GOLDEN APPLES

New 2016 collection: beautiful wallpaper mural GOLDEN APPLES designed by Eva Germani for Wall and Deco Italy. Available in 2 colors.

This non woven wallpaper will be made on demand in the size you need and comes in roles of 47…

Wall and Deco CART-ON

From the 2016 collection: beautiful wallpaper mural CART-ON designed by Giovanni Pesce for Wall and Deco Italy. Available in 2 colors.

This non woven wallpaper will be made on demand in the size you need and comes in roles of 47…

Wall and Deco APLOMB

New 2016 collection: stunning wallpaper APLOMB designed by Draga Obradovic and Aurel K. Basedow for Wall and Deco Italy. Available in 2 colors.

This non woven wallpaper will be made on demand in the size you need and comes in…

Wall and Deco LURK

New 2016 collection: stunning wallpaper LURK designed by Draga Obradovic and Aurel K. Basedow for Wall and Deco Italy. Available in 2 colors.

This non woven wallpaper will be made on demand in the size you need and comes in roles…

Wall and Deco CROSS ROOM

Stunning colorfull wallpaper CROSS ROOM designed by Serena Confalonieri for Wall and Deco Italy. Available in three colors.

This non woven wallpaper will be made on demand in the size you need and comes in roles of 47 cm. width.…

Wall and Deco MAN ON THE MOON

Stunning colorfull wallpaper designed by Wladimiro Bendandi and Christian Benini for Wall and Deco Italy. Available in three colors.

This non woven wallpaper will be made on demand in the size you need and comes in roles of 47…

Wall and Deco EL CABALLO DE ANDY

Stunning wallpaper designed by Lorenzo de Grandis for Wall and Deco Italy. Available in three colors. Collection 2013.

This non woven wallpaper will be made on demand in the size you need and comes in roles of 47 cm. width. Price…

Wall and Deco BLACK MAMA

Stunning wallpaper designed by Francesca Zobili for Wall and Deco Italy. Available in two colors.

This non woven wallpaper will be made on demand in the size you need and comes in roles of 47 cm. width. Price Euro 115,00 per m2…

Wall and Deco COCKATOO

Beautiful impressive wallcovering COCKATOO. Great design wallpaper by Giovanni Pagani for Wall & Deco Italy. Available in four shades.

This non woven wallpaper will be made on demand in the size you need and comes in roles of 47…

Wall and Deco CACTUS JUICE

Stunning contemporary mural CACTUS JUICE. Great design wallpaper by Wall & Deco Italy. Available in two shades.

This vinyl wallpaper will be made on demand in the size you need and comes in roles of 47 cm. width. Price Euro…

Wall and Deco CUTTING FLOWERS

Stunning wall CUTTING FLOWERS. Great design wallpaper by Giovanni Pagani for Wall & Deco Italy. Available in two shades.

This non woven wallpaper will be made on demand in the size you need and comes in roles of 47 cm. width.…

Wall and Deco DRAWING

Stunning wall DRAWING on a concrete background. Great design wallpaper by Wall & Deco Italy. Available in two shades. Collection 2012.

This non woven wallpaper will be made on demand in the size you need and comes in roles of 47…

Wall and Deco VERSO

Stunning wall with backsides of paintings. Great design wallpaper VERSO by Wall & Deco Italy. Available in two shades.

This non woven wallpaper will be made on demand in the size you need and comes in roles of 47 cm. width. Price…

Wall and Deco GARDEN COLIBREEZE

Stunning wallpaper COLIBREEZE by Wall & Deco Italy. Available in two colours.

This vinyl wallpaper will be made on demand in the size you need and comes in roles of 47 cm. width. Price Euro 115,00 per m2 (entire roll of 47 will…

Wall and Deco GARDEN FLAVOURS

Stunning wallpaper GARDEN FLAVOURS by Wall & Deco Italy. Available in two versions.

This vinyl wallpaper will be made on demand in the size you need and comes in roles of 47 cm. width. Price Euro 115,00 per m2 (entire roll of 47…

Wall and Deco IN VETTA

Stunning wallpaper IN VETTA by Wall & Deco Italy. Available in two shades.

This non woven wallpaper will be made on demand in the size you need and comes in roles of 47 cm. width. Price Euro 115,00 per m2 (entire roll of 47 will…

Wall and Deco KNOCK KNOCK

Stunning grunge wall with old door. Great wallpaper KNOCK KNOCK by Wall & Deco Italy. Available in two shades.

This non woven wallpaper will be made on demand in the size you need and comes in roles of 47 cm. width. Price Euro…

Wall and Deco CASCADE

Stunning floral wallpaper CASCADE by Christian Benini for Wall & Deco Italy. Available in two colors.
Collection 2012.This non woven wallpaper will be made on demand in the size you need and comes in roles of 47 cm. width. Price…

Wall and Deco OPTICAL

Stunning mural OPTICAL by Wall & Deco.

This non woven wallpaper will be made on demand in the size you need and comes in roles of 47 cm. width. Price euro 115,00 per m2.

Want a free quotation and/or simulation of this wallpaper?…

Wall and Deco TAPIE

Stunning mural TAPIE by Wall & Deco. How about putting it on the ceiling as well!

This non woven wallpaper will be made on demand in the size you need and comes in roles of 47 cm. width. Price € 115,00 per m2.

Want a free…

Wall and Deco CIA E LA GUSELO

Stunning effect with mural CIA E LA GUSELO by Silva Gortana for Wall & Deco Italy. Available in two colors.

This non woven wallpaper will be made on demand in the size you need and comes in roles of 47 cm. width. Price Euro…

Wall and Deco RECUT

Great effect with mural RECUT by Wall & Deco Italy. Available in two shades.

This vinyl wallpaper will be made on demand in the size you need and comes in roles of 47 cm. width. Price Euro 115,00 per m2 (entire roll of 47 will be…

Wall and Deco MY MUSEUM

Great effect with mural MY MUSEUM by Wall & Deco Italy. Available in two shades.

This vinyl wallpaper will be made on demand in the size you need and comes in roles of 47 cm. width. Price Euro 115,00 per m2 (entire roll of 47…

Wall and Deco EMPTY SKY

Stunning mural EMPTY SKY by Wall & Deco Italy. Available in two colours. Collection 2010.

This vinyl wallpaper will be made on demand in the size you need and comes in roles of 47 cm. width. Price Euro 115,00 per m2 (entire roll…

Wall and Deco NO PLAN

Stunning No Plan mural by Wall & Deco Italy. Available in two versions.

This vinyl wallpaper will be made on demand in the size you need and comes in roles of 47 cm. width. Price Euro 115,00 per m2 (entire roll of 47 will be…