WET Bathroom
New revolutionairy wallpaper WET by Wall & Deco for your bathroom!
Choose from the stunning designs and you will no longer have a dull shower moment!
Inclusive special glue and coating for a quaranteed waterproof result.
All Wall and Deco's wallpapers are made on demand especially for you on any size you like for € 135,00 per m2 (ex vat). Roll width is 94 cm.
Delivery time around 4 weeks.
Please send us an email for a free quotation and visual (example by mail)
See the entire COLLECTION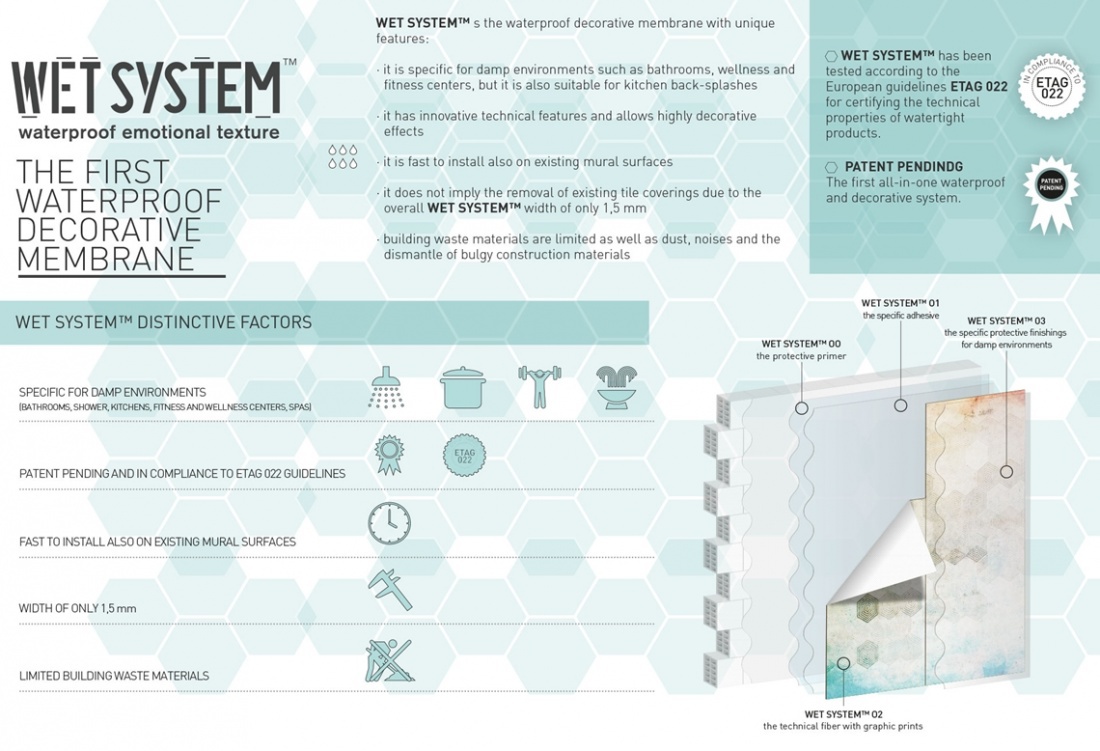 Wall & Deco BRILLANTE

How about using wallpaper in your bathroom (or shower) in stead of tiles! Waterproof WET system wallpaper BRILLANTE by Maria Gomez Garcia for Wall & Deco. Collection 2019.

Rolls of 94 cm. width. Price Euro 160,00/m2 (width of…

Wall & Deco PLATONE

How about using wallpaper in your bathroom (or shower) in stead of tiles! Waterproof WET system wallpaper PLATONE by Ines Porrino for Wall & Deco. Collection 2018.

Rolls of 94 cm. width. Price Euro 160,00/m2 (width of rolls are…

Wall & Deco MOUNTAIN OF OUR CHILDHOOD

How about using wallpaper in your bathroom (or shower) in stead of tiles! Waterproof WET system wallpaper MOUNTAIN OF OUR CHILDHOOD by Talva Design for Wall & Deco. Collection 2020.

Rolls of 94 cm. width. Price Euro 160,00/m2…

Wall & Deco 1851

Upgrade or new bathroom or kitchen backsplash needed? Forget tiles and choose for this stunning WET system wallpaper mural 1851 by Enrico Beccari for Wall & Deco. Collection 2020. Availalble in two colors.

Rolls of 94 cm. width.…

Wall & Deco REGINAE

Upgrade or new bathroom or kitchen backsplash needed? Forget tiles and choose for this stunning WET system wallpaper mural REGINAE by Antonella Guidi for Wall & Deco. Collection 2020. Availalble in two colors.

Rolls of 94 cm.…

Wall & Deco IMAGINARY PARADISE

Upgrade or new bathroom or kitchen backsplash needed? Forget tiles and choose for this stunning WET system wallpaper mural IMAGINARY PARADISE by Gupica for Wall & Deco. Collection 2020. Availalble in two colors.

Rolls of 94 cm.…

Wall & Deco BOW TIE

Upgrade or new bathroom or kitchen backsplash needed? Forget tiles and choose for this stunning WET system wallpaper mural BOW TIE by Antonella Guidi for Wall & Deco. Collection 2020. Availalble in two colors.

Rolls of 94 cm.…

Wall & Deco GO BOY GO

Upgrade or new bathroom or kitchen backsplash needed? Forget tiles and choose for this stunning WET system wallpaper mural GO BOY GO by Enrico Beccari for Wall & Deco. Collection 2020. Availalble in two colors.

Rolls of 94 cm.…

Wall & Deco DOMESTIC UTOPIA ISLAND

Upgrade or new bathroom or kitchen backsplash needed? Forget tiles and choose for this stunning WET system wallpaper mural UTOPIA ISLAND by Cntrlzak for Wall & Deco. Collection 2020. Availalble in two colors.

Rolls of 94 cm.…

Wall & Deco SGUARDO

Upgrade or new bathroom or kitchen backsplash needed? Forget tiles and choose for this stunning WET system wallpaper mural SGUARDO by Eva Germani for Wall & Deco. Collection 2020. Availalble in two colors.

Rolls of 94 cm. width.…

Wall & Deco ROSA DI SERA

Upgrade or new bathroom or kitchen backsplash needed? Forget tiles and choose for this stunning WET system wallpaper mural ROSA DI SERA by Eva Germani for Wall & Deco. Collection 2020. Availalble in two colors.

Rolls of 94 cm.…

Wall & Deco VOYAGE PRIVE

Upgrade or new bathroom or kitchen backsplash needed? Forget tiles and choose for this stunning WET system wallpaper mural VOYAGE PRIVE by Christian Benini for Wall & Deco. Collection 2020. Availalble in two colors.

Rolls of 94…

Wall & Deco DOMESTIC CATHEDRAL

Upgrade or new bathroom or kitchen backsplash needed? Forget tiles and choose for this stunning WET system wallpaper mural DOMESTIC CATHEDRAL by Cntrlzak for Wall & Deco. Collection 2020. Availalble in two colors.

Rolls of 94 cm.…

Wall & Deco HEM & GAU

Upgrade or new bathroom or kitchen backsplash needed? Forget tiles and choose for this stunning WET system wallpaper mural HEM & GAU by Ruga Perissinotto for Wall & Deco. Collection 2020. Availalble in two colors.

Rolls of 94 cm.…

Wall & Deco LIDO

Upgrade or new bathroom or kitchen backsplash needed? Forget tiles and choose for this stunning WET system wallpaper mural MEMORY OF HOME by Talva Design for Wall & Deco. Collection 2020. Availalble in two designs.

Rolls of 94…

Wall & Deco LIDO

Upgrade or new bathroom or kitchen backsplash needed? Forget tiles and choose for this stunning WET system wallpaper mural LIDO by Debonademeo for Wall & Deco. Collection 2020. Availalble in two designs.

Rolls of 94 cm. width.…

Wall & Deco LAVA

Upgrade or new bathroom or kitchen backsplash needed? Forget tiles and choose for this stunning WET system wallpaper mural LAVA by Nina Magon for Wall & Deco. Collection 2020. Availalble in two colors.

Rolls of 94 cm. width.…

Wall & Deco PILLOWY

Upgrade or new bathroom or kitchen backsplash needed? Forget tiles and choose for this stunning WET system wallpaper mural PILLOWY by Nina Magon for Wall & Deco. Collection 2020. Availalble in two colors.

Rolls of 94 cm. width.…

Wall & Deco VIVIDO

Upgrade or new bathroom or kitchen backsplash needed? Forget tiles and choose for this stunning WET system wallpaper mural THE VIVIDO by Maria Gomez Garcia for Wall & Deco. Collection 2020. Availalble in two colors.

Rolls of 94…

Wall & Deco THE GREAT PRETENDER

Upgrade or new bathroom or kitchen backsplash needed? Forget tiles and choose for this stunning WET system wallpaper mural THE GREAT PRETENDER by Antonella Guidi for Wall & Deco. Collection 2019. Availalble in two colors.

Rolls…

Wall & Deco MIND MAP

Upgrade or new bathroom or kitchen backsplash needed? Forget tiles and choose for this stunning WET system wallpaper mural MIND MAP by Alhambretto + Am Prod for Wall & Deco. Collection 2019. Availalble in two colors.

Rolls of 94…

Wall & Deco SUNFLOWER GATE

Upgrade or new bathroom or kitchen backsplash needed? Forget tiles and choose for this stunning WET system wallpaper mural SUNFLOWER GATE by Paolo Badesco Costantino Affuso for Wall & Deco. Collection 2019. Availalble in two…

Wall & Deco BIOPHILIA

Upgrade or new bathroom or kitchen backsplash needed? Forget tiles and choose for this stunning WET system wallpaper mural BIOPHILIA by Ines Porrino for Wall & Deco. Collection 2019. Availalble in two colors.

Rolls of 94 cm.…

Wall & Deco RIGOLO

Upgrade or new bathroom or kitchen backsplash needed? Forget tiles and choose for this stunning WET system wallpaper mural RIGOLO by Alhambretto + Am Prod for Wall & Deco. Collection 2016. Availalble in two colors.

Rolls of 94…

Wall & Deco ROBINSON

Upgrade or new bathroom? Forget tiles and choose for this stunning WET system mural ROBINSON designed by Cntrlzak for Wall & Deco. Collection 2019. Available in two warm colors.

Rolls of 94 cm. width. Price Euro 160,00/m2 (width…

Wall & Deco CRISTALLINO

Upgrade or new bathroom? Forget tiles and choose for this stunning WET system mural CRISTALLION designed by Eva Germani for Wall & Deco. Collection 2019. Available in two warm colors.

Rolls of 94 cm. width. Price Euro 160,00/m2…

Wall & Deco ISLAND IN THE SUN

Upgrade or new bathroom? Forget tiles and choose for this stunning WET system mural ISLAND IN THE SUN designed by Christian Benini for Wall & Deco. Collection 2019.

Rolls of 94 cm. width. Price Euro 135,00 (ex vat) per m2 (width…

Wall & Deco LEARN TO FLY

Upgrade or new bathroom or kitchen backsplash needed? Forget tiles and choose for this stunning WET system wallpaper mural LEARN TO FLY by Wall & Deco. Collection 2019. Availalble in two colors.

Rolls of 94 cm width. Price €…

Wall & Deco MISS WORLD

Upgrade or new bathroom or kitchen backsplash needed? Forget tiles and choose for this stunning WET system wallpaper mural MISS WORLD by Wall & Deco. Collection 2019. Availalble in two colors.

Rolls of 94 cm. width. Price Euro…

Wall & Deco MARMILLA

Upgrade or new bathroom or kitchen backsplash needed? Forget tiles and choose for this stunning WET system wallpaper mural MARMILLA designed by Talva Design for Wall & Deco. Collection 2019. Availalble in two colors.

Rolls of 94…

Wall & Deco TIP TOE

Upgrade or new bathroom or kitchen backsplash needed? Forget tiles and choose for this stunning WET system wallpaper mural TIP TOE designed by Debonademeo for Wall & Deco. Collection 2019. Availalble in two colors.

Rolls of 94…

Wall & Deco WISHLIST

Upgrade or new bathroom or kitchen backsplash needed? Forget tiles and choose for this stunning WET system wallpaper mural WISHLIST designed by Debonademeo for Wall & Deco. Collection 2019. Availalble in two colors.

Rolls of 94…

Wall & Deco TUNING

Upgrade or new bathroom or kitchen backsplash needed? Forget tiles and choose for this stunning WET system wallpaper mural TUNING designed by Antonella Guidi for Wall & Deco. Collection 2019. Availalble in two colors.

Rolls of 94…

Wall & Deco JOYA

Upgrade or new bathroom or kitchen backsplash needed? Forget tiles and choose for this stunning WET system wallpaper mural JOYA designed by Eva Germani for Wall & Deco. Collection 2019. Availalble in two colors.

Rolls of 94 cm.…

Wall & Deco ITALIAN DANDY

Upgrade or new bathroom or kitchen backsplash needed? Forget tiles and choose for this stunning WET system wallpaper mural ITALIAN DANDY designed by Ines Porrino for Wall & Deco. Collection 2019. Availalble in two colors.

Rolls…

Wall & Deco CABINET DE CURIOSITE

Upgrade or new bathroom or kitchen backsplash needed? Forget tiles and choose for this stunning WET system wallpaper mural CABINET DE CURIOSITE designed by Raw for Wall & Deco. Collection 2019. Availalble in two colors.

Rolls of…

Wall & Deco BURLAP

Upgrade or new bathroom or kitchen backsplash needed? Forget tiles and choose for this stunning WET system wallpaper mural BURLAP designed by Raw for Wall & Deco. Collection 2018. Availalble in two colors.

Rolls of 94 cm. width.…

Wall & Deco REVERIE

Upgrade or new bathroom or kitchen backsplash needed? Forget tiles and choose for this stunning WET system wallpaper mural REVERIE designed by Antonella Guidi for Wall & Deco. Collection 2018. Availalble in two colors.

Rolls of…

Wall & Deco SILENCE

Upgrade or new bathroom? Forget tiles and choose for this stunning WET system wallpaper mural SILENCE designed by Casa 1796 for Wall & Deco. Collection 2018. Availalble in two colors.

Rolls of 94 cm. width. Price Euro 135,00 (ex…

Wall & Deco POSIDONIA

Upgrade or new bathroom? Forget tiles and choose for this stunning WET system mural POSIDONIA designed by Antonella Guidi for Wall & Deco. Collection 2018. Availalble in two colors.

Rolls of 94 cm. width. Price Euro 135,00 per m2…

Wall & Deco TEMPO SOSPESO

Upgrade or new bathroom? Forget tiles and choose for this stunning WET system mural TEMPO SOSPESO designed by Gupica for Wall & Deco. Collection 2018. Availalble in two colors.

Rolls of 94 cm. width. Price Euro 135,00 per m2 EX…

Wall & Deco ALFAMA

Upgrade or new bathroom? Forget tiles and choose for this stunning WET system mural ALFAMA designed by Debonademeo for Wall & Deco. Collection 2018. Available in two colors.

Rolls of 94 cm. width. Price Euro 135,00 (ex vat) per…

Wall & Deco WINDY AFTERNOON

Upgrade or new bathroom? Forget tiles and choose for this stunning WET system mural WINDY AFTERNOON designed by Gupica for Wall & Deco. Collection 2018. Available in two colors.

Rolls of 94 cm. width. Price Euro 135,00 (ex vat)…

Wall & Deco GOETHE

Upgrade or new bathroom? Forget tiles and choose for this stunning WET system mural GOETHE designed by Alhambretto + Am Prod for Wall & Deco. Collection 2018.

Rolls of 94 cm. width. Price Euro 135,00 (ex vat) per m2 (width of…

Wall & Deco PALERMO

Upgrade or new bathroom? Forget tiles and choose for this stunning waterproof WET system mural PALERMO designed by Raw for Wall & Deco. Collection 2018. Available in two colors.

Rolls of 94 cm. width. Price Euro 135,00 (ex vat)…

Wall & Deco NO CHARLIE

Upgrade or new bathroom? Forget tiles and choose for this stunning waterproof WET system mural NO CHARLIE designed by Christian Benini for Wall & Deco. Collection 2018. Available in two colors.

Rolls of 94 cm. width. Price Euro…

Wall & Deco SINGING IN THE RAIN

Upgrade or new bathroom? Forget tiles and choose for this stunning waterproof WET system mural SINGING IN THE RAIN designed by Debonademeo for Wall & Deco. Collection 2018. Available in two colors.

Rolls of 94 cm. width. Price…

Wall & Deco DIMANCHE

Upgrade or new bathroom? Forget tiles and choose for this stunning waterproof WET system mural DIMANCHE designed by Maria Gomez Garcia for Wall & Deco. Collection 2018. Available in two colors.

Rolls of 94 cm. width. Price Euro…

Wall & Deco AQUAEDUCTUS

Upgrade or new bathroom? Forget tiles and choose for this stunning waterproof WET system mural AQUAEDUCTUS designed by Ctrlzak for Wall & Deco. Collection 2018. Available in two colors.

Rolls of 94 cm. width. Price Euro 135,00…

Wall & Deco LES GITANES

Upgrade or new bathroom? Forget tiles and choose for this stunning waterproof WET system mural LES GITANES designed by Debonademeo for Wall & Deco. Collection 2018. Available in two colors.

Rolls of 94 cm. width. Price Euro…

Wall & Deco RACINE

Upgrade or new bathroom? Forget tiles and choose for this stunning WET system mural RACINE designed by Alhambretto + Am Prod for Wall & Deco. Collection 2018.

Rolls of 94 cm. width. Price Euro 135,00 (ex vat) per m2 (width of…

Wall & Deco MOBILIS IN MOBILI

Upgrade or new bathroom? Forget tiles and choose for this stunning WET system mural MOBILIS IN MOBILI designed by Ctrlzak for Wall & Deco. Collection 2018.

Rolls of 94 cm. width. Price Euro 135,00 (ex vat) per m2 (width of rolls…

Wall & Deco COQUILLAGES

Upgrade or new bathroom? Forget tiles and choose for this stunning WET system mural COQUILLAGES designed by Eva Germani for Wall & Deco. Collection 2018.

Rolls of 94 cm. width. Price Euro 135,00 (ex vat) per m2 (width of rolls…

Wall & Deco JULIET

Upgrade or new bathroom? Forget tiles and choose for this stunning WET system mural JULIET designed by Eva Germani for Wall & Deco. Collection 2018.

Rolls of 94 cm. width. Price Euro 135,00 (ex vat) per m2 (width of rolls are…

Wall & Deco GRAPHITE

Upgrade or new bathroom? Forget tiles and choose for this stunning WET system mural GRAPHITE designed by Christian Benini for Wall & Deco. Collection 2010.

Rolls of 94 cm. width. Price Euro 135,00 (ex vat) per m2 (width of rolls…

Wall & Deco ORA BLU

Upgrade or new bathroom? Forget tiles and choose for this stunning waterproof WET system mural ORA BLU designed by DEBONADEMEO for Wall & Deco. Collection 2017. Available in 2 colors.

Rolls of 94 cm. width. Price Euro 135,00 (ex…

Wall & Deco DAME VOILEE

Upgrade or new bathroom? Forget tiles and choose for this stunning WET system mural DAME VOILEE designed by EVA GERMANI for Wall & Deco. Collection 2017.

Rolls of 94 cm. width. Price Euro 135,00 (ex vat) per m2 (width of rolls…

Wall & Deco DEMETRA

Upgrade or new bathroom? Forget tiles and choose for this stunning WET system mural DEMETRA designed by ANTONELLA GUIDI for Wall & Deco. Collection 2017.

Rolls of 94 cm. width. Price Euro 135,00 (ex vat) per m2 (width of rolls…

Wall & Deco SAFRAN

Upgrade or new bathroom? Forget tiles and choose for this stunning WET system mural SAFRAN designed by ANTONELLA GUIDI for Wall & Deco. Collection 2017.

Rolls of 94 cm. width. Price Euro 135,00 (ex vat) per m2 (width of rolls are…

Wall & Deco SOLSTRALE

Upgrade or new bathroom? Forget tiles and choose for this stunning WET system mural SOLSTRALE designed by EVA GERMANI for Wall & Deco. Collection 2017.

Rolls of 94 cm. width. Price Euro 135,00 (ex vat) per m2 (width of rolls are…

Wall & Deco LE BON JARDINIER

Upgrade or new bathroom? Forget tiles and choose for this stunning WET system mural LE BON JARDINER designed by RAW for Wall & Deco. Collection 2017.

Rolls of 94 cm. width. Price Euro 135,00 (ex vat) per m2 (width of rolls are…

Wall & Deco ESPRIT

Upgrade or new bathroom? Forget tiles and choose for this stunning WET system mural ESPRIT designed by DEBONADEMEO for Wall & Deco. Collection 2017.

Rolls of 94 cm. width. Price Euro 135,00 (ex vat) per m2 (width of rolls are…

Wall & Deco CHANGING DOTS

Upgrade or new bathroom? Forget tiles and choose for this stunning WET system mural CHANGING DOTS designed by GUPICA for Wall & Deco. Collection 2017.

Rolls of 94 cm. width. Price Euro 135,00 (ex vat) per m2 (width of rolls are…

Wall & Deco COCO

Upgrade or new bathroom? Forget tiles and choose for this stunning WET system mural COCO designed by Casa 179 for Wall & Deco. Collection 2017.

Rolls of 94 cm. width. Price Euro 135,00 (ex vat) per m2 (width of rolls are…

Wall & Deco CLEAN UP

Upgrade or new bathroom? Forget tiles and choose for this stunning WET system mural CLEAN UP designed by Alhambretto + Am Prod for Wall & Deco. Collection 2017.

Rolls of 94 cm. width. Price Euro 135,00 (ex vat) per m2 (width of…

Wall & Deco BRION

Upgrade or new bathroom? Forget tiles and choose for this stunning WET system mural BRION designed by Alhambretto + Am Prod for Wall & Deco. Collection 2017.

Rolls of 94 cm. width. Price Euro 135,00 (ex vat) per m2 (width of…

Wall & Deco BOOGIE

Upgrade or new bathroom? Forget tiles and choose for this stunning WET system mural BOOGIE designed by María Gómez García for Wall & Deco. Collection 2017.

Rolls of 94 cm. width. Price Euro 135,00 (ex vat) per m2 (width of…

Wall & Deco BADAAL

Upgrade or new bathroom? Forget tiles and choose for this stunning WET system mural BADAAL designed by DEBONADEMEO for Wall & Deco. Collection 2017.

Rolls of 94 cm. width. Price Euro 135,00 (ex vat) per m2 (width of rolls are…

Wall & Deco LE VITRAIL

Stunning wallcovering for your shower / bathroom LE VITRAIL by Casa 1796 for Wall & Deco. Patented WET system which is completely waterproof.

Rolls of 94 cm. width. Price Euro 135,00 (ex vat) per m2 (width of rolls are calculated…

Wall & Deco GOOD VIBES

Stunning wallcovering for your shower / bathroom GOOD VIBES by Alhambretto + Am Prod for Wall & Deco. Patented WET system which is completely waterproof.

Rolls of 94 cm. width. Price Euro 135,00 (ex vat) per m2 (width of rolls…

Wall & Deco INNER FOREST

Who needs tiles in the bathroom when you can have this stunning waterproof shower wallpaper INNER FOREST? Stunning patented WET system designed by Gupicai for Wall & Deco. Collection 2016.

Rolls of 94 cm. width. Price Euro 135,00…

Wall & Deco OLIMPO

Who needs tiles in the bathroom when you can have this stunning waterproof shower wallpaper OLIMPO in marble look? Stunning patented WET system designed by Gunilla Zamboni for Wall & Deco.

Rolls of 94 cm. width. Price Euro 135,00…

Wall & Deco INTO THE BLUE

Who needs tiles in the bathroom when you can have this beautiful shower wallpaper INTO THE BLUE by Antonella Guidi? Stunning patented WET system by Wall & Deco. Available in two colors.

Rolls of 94 cm. width. Price Euro 135,00…

Wall & Deco NIVEUM

Who needs tiles in the bathroom when you can have this stunning shower wallpaper NIVEUM by Eva Germani and enjoy a wonderful view every day? Stunning patented WET system by Wall & Deco.

Rolls of 94 cm. width. Price Euro 135,00…

Wall & Deco FROZEN

Who needs tiles in the bathroom when you can have this stunning shower wallpaper FROZEN by Ctrlzak and enjoy a wonderful view every day? Stunning patented WET system by Wall & Deco.

Rolls of 94 cm. width. Price Euro 135,00 (ex…

Wall & Deco FRONDES

Who needs tiles in the bathroom when you can have this stunning shower wallpaper FRONDESL by Ctrlzak and enjoy a wonderful view every day? Stunning patented WET system by Wall & Deco.

Rolls of 94 cm. width. Price Euro 135,00 (ex…

Wall & Deco CORALFULL

Who needs tiles in the bathroom when you can have this stunning shower wallpaper CORALFUL by Ctrlzak and enjoy a wonderful view every day? Stunning patented WET system by Wall & Deco.

Rolls of 94 cm. width. Price Euro 160,00 per…

Wall & Deco CONSERVATORY

Who needs tiles in the bathroom when you can have this stunning shower wallpaper CONSERVATORY by Raw and enjoy a wonderful view every day? Stunning patented WET system by Wall & Deco.

Rolls of 94 cm. width. Price Euro 135,00 (ex…

Wall & Deco CARILLON

Who needs tiles in the bathroom when you can have this stunning shower wallpaper CARILLON? Stunning patented WET system designed by Casa 1796 for Wall & Deco. Available in 2 colours.

Rolls of 94 cm. width. Price Euro 135,00 (ex…

Wall & Deco BRAINSTORM

Who needs tiles in the bathroom when you can have this stunning shower wallpaper BAINSTORM? Stunning patented WET system designed by Alhambretto & Am Prod for Wall & Deco. Available in 2 colours.

Rolls of 94 cm. width. Price Euro…

Wall & Deco BONAIRE

Who needs tiles in the bathroom when you can have this stunning shower wallpaper BONAIRE? Stunning patented WET system by Ines Porrino for Wall & Deco. Available in two colours.

Rolls of 94 cm. width. Price Euro 135,00 (ex vat)…

Wall & Deco BATIK

Who needs tiles in the bathroom when you can have this stunning shower wallpaper BATIK by De Meo & Bona? Stunning patented WET system by Wall & Deco.

Rolls of 94 cm. width. Price Euro 135,00 (ex vat) per m2 (width of rolls are…

Wall & Deco AUGUSTA

Who needs tiles in the bathroom when you can have this stunning shower wallpaper Augusta by Antonella Guidi? Stunning patented WET system by Wall & Deco.

Rolls of 94 cm. width. Price Euro 135,00 (ex vat) per m2 (width of rolls…

Wall & Deco ALADINO

Who needs tiles in the bathroom when you can have this stunning shower wallpaper ALADINO? Stunning patented WET system designed by Eva Germani for Wall & Deco. Available in 2 colours.

Rolls of 94 cm. width. Price Euro 135,00 (ex…

Wall & Deco VE-NATURE

Who needs tiles in the bathroom when you can have this stunning shower wallpaper VE-NATURE? Stunning patented WET system by Wall & Deco.

Rolls of 94 cm. width. Price Euro 135,00 (ex vat) per m2 (width of rolls are calculated…

Wall & Deco ECHELLE

Who needs tiles in the bathroom when you can have this stunning shower wallpaper Echelle? Patented WET system by De Meo & De Bona for Wall & Deco.

Rolls of 94 cm. width. Price Euro 135,00 (ex vat) per m2 (width of rolls are…

Wall & Deco BIG BANG

Who needs tiles in the bathroom when you can have this stunning shower wallpaper Big Bang? Patented WET system by Wall & Deco.

Rolls of 94 cm. width. Price Euro 160,00/m2 (width of rolls are calculated completely). Special glue…

Wall & Deco OCEAN DROPS

In case you want something else than tiles in your bathroom you might want to have this stunning waterproof wallpaper OCEAN DROPS of the new WET collection of Wall & Deco from Italy. Available in 2 colours.

Rolls of 94 cm. width.…

Wall & Deco ESCAPE

In case you want something else than tiles in your bathroom you might want to have this stunning waterproof wallpaper ESCAPE of the new WET collection of Wall & Deco from Italy. Available in 2 colours.

Rolls of 94 cm. width.…

Wall & Deco MISS MARPLE

In case you want something else than tiles in your bathroom you might want to have this stunning waterproof wallpaper MISS MARPLE of the new WET collection of Wall & Deco from Italy. Available in 2 colours.

Rolls of 94 cm. width.…

Wall & Deco ARTIC WIND

In case you want something else than tiles in your bathroom you might want to have this stunning waterproof wallpaper ARTIC WIND of the new WET collection of Wall & Deco from Italy. Available in 2 colours.

Rolls of 94 cm. width.…

Wall & Deco CRISS-CROSS

In case you want something else than tiles in your bathroom you might want to have this stunning waterproff wallpaper CRISS-CROSS of the new WET collection of Wall & Deco from Italy.

Rolls of 94 cm. width. Price Euro 135,00 (ex…

Wall & Deco COLOR CHAIN

In case you want something else than tiles in your bathroom you might want to have this stunning colorful wallpaper COLOR CHAIN of the new WET collection of Wall & Deco from Italy.

Rolls of 94 cm. width. Price Euro 135,00 ex vat…

Wall & Deco MIAMI WINTER

In case you want something else than tiles in your bathroom you might want to have this stunning wallpaper MIAMI WINTER of the new WET collection of Wall & Deco from Italy.

Rolls of 94 cm. width. Price Euro 135,00 (ex vat) per m2…

Wall & Deco TECHTUBES

In case you want something else than tiles in your bathroom you might want to have this stunning wallpaper TECHTUBES of the new WET collection of Wall & Deco from Italy. Available in 2 brilliant colours.

Rolls of 94 cm. width.…

Wall & Deco PETROL

In case you want something else than tiles in your bathroom you might want to have this stunning wallpaper PETROL of the new WET collection of Wall & Deco from Italy. Available in 2 colours.

Rolls of 94 cm. width. Price Euro…

Wall & Deco ALOHA

In case you want something else than tiles in your bathroom you might want to have this stunning wallpaper ALOHA of the new WET collection of Wall & Deco from Italy. Available in 2 colours.

Rolls of 94 cm. width. Price Euro…

Wall & Deco MYSTICAL DREAM

No tiles in your bathroom but stunning waterproof floral wallpaper MUSTICAL DREAM of the new WET collection of Wall & Deco from Italy. Available in 2 colours.

Rolls of 94 cm. width. Price Euro 135,00 ex vat per m2 (width of rolls…

Wall & Deco FREGIO

No tiles in your bathroom but stunning waterproof wallpaper FREGIO of the new WET collection of Wall & Deco from Italy. Available in 2 colours.

Rolls of 94 cm. width. Price Euro 135,00 ex vat per m2 (width of rolls are calculated…

Wall & Deco SHOKO

Wonderful fragile mural SHOKO by Italian Wall & Deco. Patent pending special WET wallpaper for your bathroom.

Rolls of 94 cm. width. Price Euro 135,00 ex vat per m2 (width of rolls are calculated completely). Special glue and…

Wall & Deco FAGALES

Wonderful mural FAGALE by Italian Wall & Deco. Waterproof WET system wallpaper for your bathroom.

Rolls of 94 cm. width. Price Euro 135,00 ex vat per m2 (width of rolls are calculated completely). Special glue and finish…

Wall & Deco LAYERING

No tiles in your bathroom but stunning waterproof wallpaper LAYERING of the new WET collection of Wall & Deco from Italy.

Rolls of 94 cm. width. Price Euro 135,00 ex vat per m2 (width of rolls are calculated completely). Special…

Wall & Deco DANCING CURTAINS

No tiles in your bathroom but stunning waterproof wallpaper DANCING CURTAINS of the WET collection of Wall & Deco from Italy.

Rolls of 94 cm. width. Price Euro 135,00 ex vat per m2 (width of rolls are calculated completely).…

Wall & Deco KALEIDO

In case you want something else than tiles in your bathroom you choose for this stunning waterproof wallpaper KALEIDO of the new WET collection of Wall & Deco from Italy. Available in 2 colours.

Rolls of 94 cm. width. Price Euro…

Wall & Deco CRYSTAL WATER

In case you want something else than tiles in your bathroom you choose for this stunning wallpaper CRYSTAL WATER of the WET collection of Wall & Deco from Italy. Available in 2 colours.

Rolls of 94 cm. width. Price Euro 135,00 ex…

Wall & Deco MEDUSAE

In case you want something else than tiles in your bathroom you choose for this stunning wallpaper MEDUSAE of the WET collection of Wall & Deco from Italy. Available in 2 colours.

Rolls of 94 cm. width. Price Euro 135,00 ex vat…

Wall & Deco NOUVEAU

In case you want something else than tiles in your bathroom you choose for this stunning wallpaper NOUVEAU with glass blocks of the WET collection of Wall & Deco from Italy.

Rolls of 94 cm. width. Price Euro 135,00 ex vat per m2…

Wall & Deco LIFE LINES

In case you want something else than tiles in your bathroom you choose for this stunning wallpaper LIFE LINES of the WET collection of Wall & Deco from Italy. Available in two colors.

Rolls of 94 cm. width. Price Euro 135,00 ex…

Wall & Deco WET PINCELADO

In case you want something else than tiles in your bathroom you choose for this stunning wallpaper PINCELADE of the WET collection of Wall & Deco from Italy. Available in one or more colors or prints, see below.

Rolls of 94 cm.…

Wall & Deco WET JACQUARD

In case you want something else than tiles in your bathroom you choose for this stunning wallpaper JACQUARD of the WET collection of Wall & Deco from Italy. Available in one or more colors or prints, see below.

Rolls of 94 cm.…

Wall & Deco WET DHARMA STYLE

In case you want something else than tiles in your bathroom you choose for this stunning wallpaper DHARMA STYLE of the WET collection of Wall & Deco from Italy. Available in one or more colors or prints, see below.

Rolls of 94…

Wall & Deco WET DEFRAG ME

In case you want something else than tiles in your bathroom you choose for this stunning wallpaper DEFRAG ME of the WET collection of Wall & Deco from Italy. Available in one or more colors or prints, see below.

Rolls of 94 cm.…

Wall & Deco WET LE GRAND PALAIS

In case you want something else than tiles in your bathroom you choose for this stunning wallpaper LE GRAND PALAIS of the WET collection of Wall & Deco from Italy.

Rolls of 94 cm. width. Price Euro 135,00 ex vat per m2 (width of…

Wall & Deco WET VIKTORIA

In case you want something else than tiles in your bathroom you choose for this stunning wallpaper VIKTORIA of the WET collection of Wall & Deco from Italy. Available in one or more colors or prints, see below.

Rolls of 94 cm.…

Wall & Deco WET POLY-HEDRIC

In case you want something else than tiles in your bathroom you choose for this stunning wallpaper POLY-HEDRIC of the WET collection of Wall & Deco from Italy.

Rolls of 94 cm. width. Price Euro 135,00 excl vat per m2 (width of…

Wall & Deco WET CICADEA

In case you want something else than tiles in your bathroom you choose for this stunning wallpaper CICADEA of the WET collection of Wall & Deco from Italy.

Rolls of 94 cm. width. Price Euro 135,00 excl vat per m2 (width of rolls…

Wall & Deco WET MARIPOSA

In case you want something else than tiles in your bathroom you choose for this stunning wallpaper MARIPOSA of the WET collection of Wall & Deco from Italy. Available with or without the butterflies.

Rolls of 94 cm. width. Price…

Wall & Deco WET HANAMACHI

In case you want something else than tiles in your bathroom you choose for this stunning wallpaper HANAMACHI of the WET collection of Wall & Deco from Italy. Available in one or more colors or prints, see below.

Rolls of 94 cm.…

Wall & Deco WET SIGNAGES

In case you want something else than tiles in your bathroom you choose for this stunning wallpaper SIGNAGES of the WET collection of Wall & Deco from Italy. Available in one or more colors or prints, see below.

Rolls of 94 cm.…